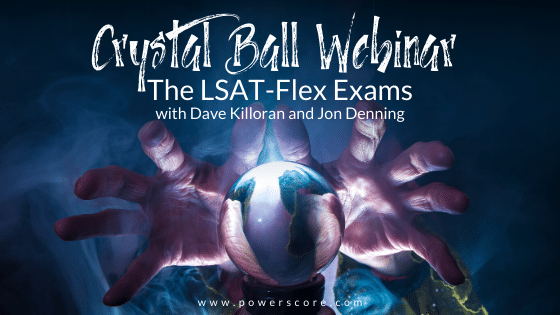 On November 2nd, Dave Killoran and Jon Denning hosted a special, free online Crystal Ball webinar where they analyzed recent LSAT trends and made predictions about what students will likely face on the November 2020-April 2021 tests. The goal of this session is to help attendees recognize the concepts and skills that will serve as the basis of their score—to highlight precisely what's most likely to appear, from guarantees to dark-horse, outlier candidates—allowing for a clear ability to prioritize your efforts most appropriately as your test date approaches. Re-watch the session here to make the most informed decision about where to focus your remaining prep for the November LSAT!
Webinar Timestamps
0:00 – Intro
1:39 – The Next Four LSATs. All the logistical details for the upcoming November, January, February, and April LSAT-Flex tests.
7:50 – The Flex Format and Testing Protocols. What we know about the Flex experience, including best practices based on past administrations, security measures, and more.
24:08 – Logical Reasoning Predictions
Logical Reasoning Resources
35:13 – Reading Comprehension Predictions
Reading Comprehension Resources
41:36 – Logic Games Predictions
Logic Games Resources
1:04:05 – The LSAT-Flex Scoring Scale. How the conversion from raw to scaled scoring works on the Flex and influences outcomes.
Scoring Resources:
1:12:29 – LSAT-Flex Test Sources And Reuses. Where the content for each Flex thus far was taken from, and what that means for the Flex tests ahead.
1:30:56 – Outro