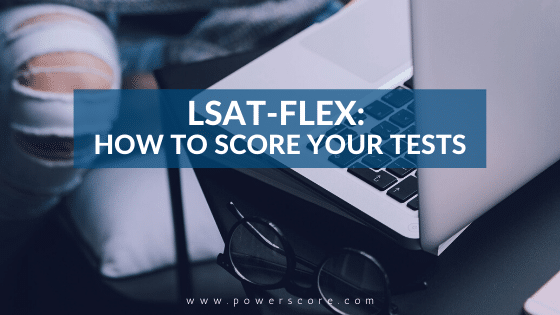 With the LSAT-Flex now firmly established during this pandemic, we've recently expanded our Digital LSAT Testing and Analytics Package to include 51 Flex exams for you to take. Each is delivered on our digital testing platform with full timing and tracking, and each has individual scoring and comprehensive performance analytics.
However, if you don't have access to our Analytics Package, then you need an alternate way to take and score your Flex tests. Let's talk about how to create your own Flex tests, and then how to properly score those exams.
How to Make Your Own LSAT-Flex Test
Making your own Flex test is easy: start with any standard four-section LSAT PrepTest, and simply remove one of the two Logical Reasoning sections. Then, take the remaining three sections back-to-back, with an optional break of up to one minute between each section.
Does it matter which of the two Logical Reasoning sections you use? Not really because they typically aren't that far apart in difficulty. However, some students choose to include the section with more questions (when applicable) to increase the question count slightly.
Once you complete the three sections, tally up all of your correct answers. The total number you answered correctly is your Raw Score.
How to Score Your Own LSAT-Flex Test
LSAT-Flex exams weight each question equally, just like a standard LSAT, and use the traditional 120-180 LSAT scoring scale, so no changes there. But because there are fewer questions on the LSAT-Flex the conversion process from raw score to final, scaled score must be adjusted. That is, you cannot directly input your Flex raw score into the scoring scale that comes with each PrepTest.
Instead, to convert your Flex raw score use the PowerScore LSAT-Flex Score Calculator below. By inputting the details of each Flex section—both question count as well as number correct—the calculator will predict exactly what your raw score would have been on the original, full PT. With that predicted raw score you can then use the test's scoring scale to determine your final scaled score on your Flex exam!
Want to take LSAT PTs in the flex format? Want more accurate and comprehensive breakdowns of your score immediately after taking a test? Our LSAT Testing and Analytics package allows you to take flex versions of past exams and will automatically score it for you! You can preview some of the analytics you get with this software as well as how to use it here.
If you have any questions, please post them below!