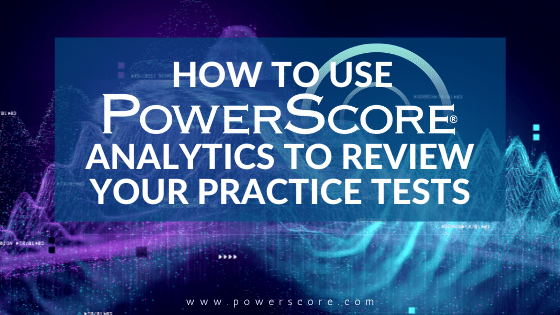 The process of reviewing your practice test performance is one of the most important components of preparing for the LSAT, but it can be difficult to know exactly how to get the most out of the review.
We advise students to analyze each test on both broad and hyper-specific levels, then focus their study time on the areas that will make the most difference. But in order to truly understand where you need to focus, you need a detailed analysis of your practice test performance that goes well-beyond just looking at the questions that you got right and wrong. Our Testing & Analytics Package (or the analytics in our LSAT Courses and Tutoring services) provides you with access to tons of post-practice statistics to help you clearly see patterns needed to focus your review.
We recommend that everyone listen to this podcast episode where Dave Killoran and Jon Denning break down the various ways to review your practice tests, how to use the PowerScore analytics, and what to do with that information. But we've also compiled some of that advice below for people who are in a hurry or would rather read about it.
Don't Skip Questions You Get Right
The basics of analytics are relatively obvious – these stats will show you section and question difficulty on a percentage scale compared to other test takers. But in a more general sense beyond "correct" and "incorrect", you should be using these results so that you can fully understand how you got from point a to point x on every single question; even the ones you got right. All too often students skip over the questions they get right when reviewing, but here's how analytics can illustrate the importance of reviewing correct answers.
Let's say you see a post-test PowerScore analytics report that shows 33% of test takers get a specific question right, and you happened to be in the minority percentile of students who selected the correct answer. Don't just pat yourself on the back and move on! Instead, analyze why it was so hard and see what part of the problem might have mislead the large percentile of people who got it wrong.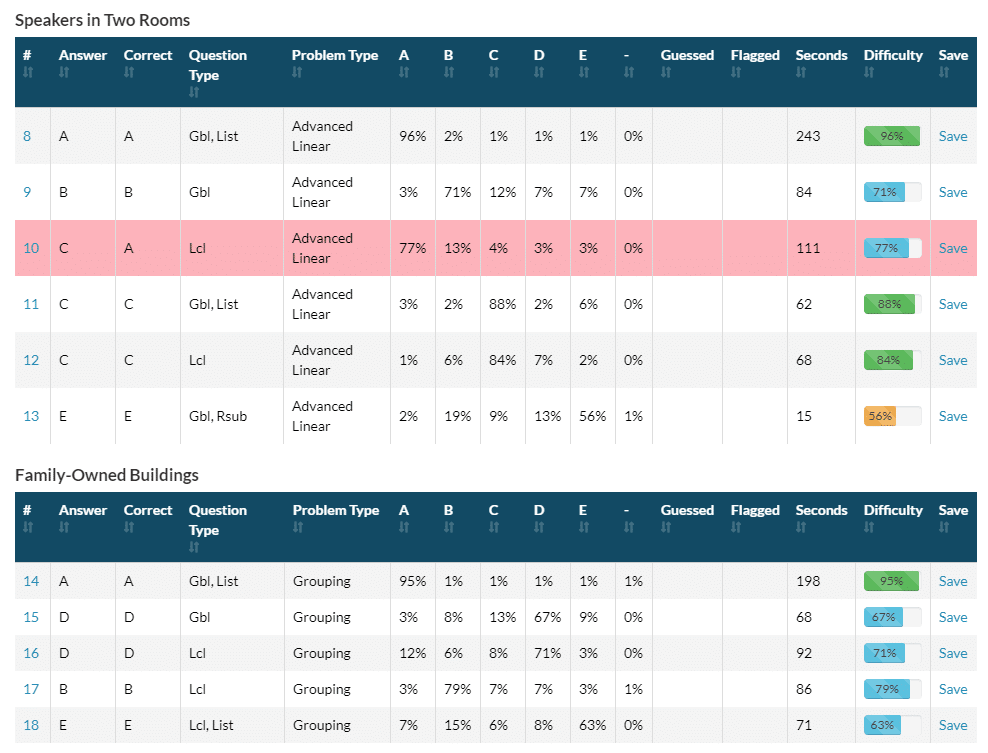 Relating with Other Test-takers
At an even more granular level, look to see which wrong answer test-takers were picking. There are often blatant statistics indicating that one specific wrong answer was particularly enticing to people. It's  important to discover what it is about that answer choice that throws people off so that you can be best prepared for other similar tricky wrong answer choices on a future test. If, for instance, an answer choice in your Powanalytics report show that 58% of people choose a particular wrong answer, retrace the steps to determine what made that answer so appealing, and use that knowledge to your advantage moving forward.
Even if a question comes across as "easy" and a high percentage of people got it right, there is still plenty to learn. Let's say you have a question that 60% of people get right – if the four wrong answer choices each have a 10% selection rate, then you can probably skip over it. But if you see an answer choice that 60% of people got right, but 35% of people picked a specific wrong answer, then it's worth looking at that 35% answer thoroughly.
The bellwether for LSAT comprehension is your ability to explain or teach to someone the full process of how to get to the right answer. Always approach your analytics review with this in mind. Even if you're studying alone, go back through the question when reviewing and simulate teaching someone the proper steps and what pitfalls to avoid. If you can't explain it, you still don't know the question well enough, even if you got it right.
Analyze Themes or Focus on LR
If the stats show that the Logic Games section is giving you significantly more difficulty than the other two sections, it's immediately obvious that a large portion of your prep time should go to Logic Games. However, if you don't feel like there are any glowing strengths or glaring weaknesses from section to section in your score reports, but you still aren't hitting your goal score range, it might be time to dive a little deeper into what the analytics can tell you. Here is a suggestion on what to do if you find yourself in these types of situations:
Analyze themes in the question/game/passage types you are getting wrong. When you zoom in a little bit more, you might see trends in the types of problems you're getting wrong. The PowerScore Analytics platform has results organized within each section by type, so that you can easily identify a struggle within a section, i.e. Flaw questions in LR, Grouping Games in LG, or Science Passages in RC.
Timing & Endurance Struggles
If there aren't question/game/passage type themes with your struggles, see if you can find struggles based on section length. Are your incorrect answers frequently at the end of a section? Then you might be running out of steam and experiencing fatigue. If the struggles are frequently at the beginning, you might be rushing or unfocused at the start. You can also apply this to overall test fatigue. Some students will notice that no matter what type of section it is, the first section is always their biggest struggle because they have a hard time settling into the testing experience. Likewise, some students will consistently struggle with the final section or two no matter what type it is because of fatigue. Reviewing your PowerScore analytics and noticing these trends will lead to tremendous improvements just by stepping outside of the test for a moment and adjusting your approach.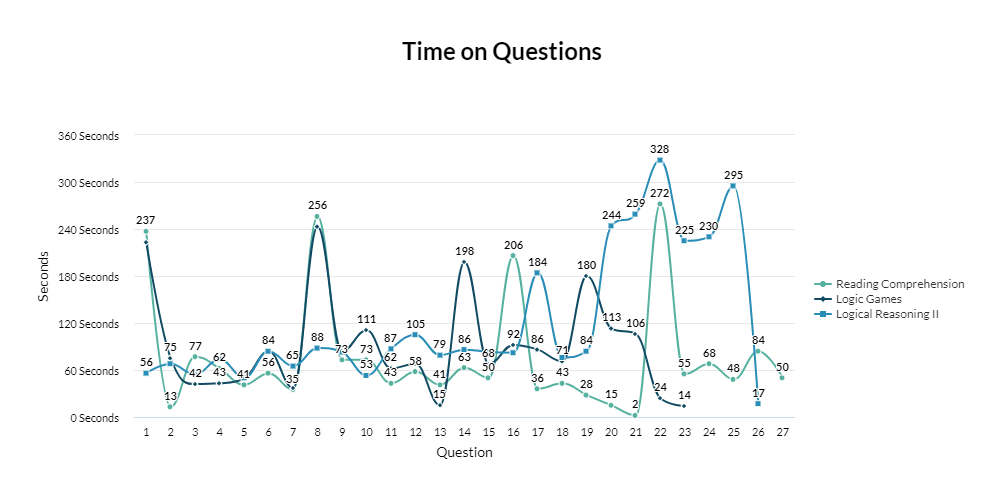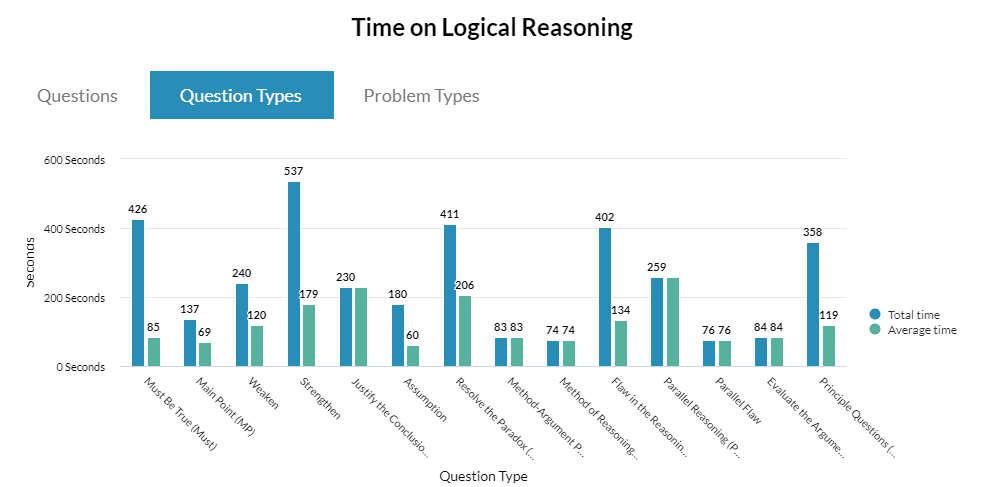 Go Back to Basics
Every piece of information you find in your PowerScore analytics can be indicative of something larger, the problem might not be hyper-specific. Detailed performance analysis can let you know if you need to go back to basics with a broad LSAT concept. Let's look into a specific example to illustrate how this can happen:
A student who was struggling in Logical Reasoning once approached Dave Killoran for help. They were specifically upset about Weaken/Strengthen questions, only getting 25-30% right per test on average. Dave asked to see their full Logical Reasoning analytics and noticed that only 45% of Must Be True questions were right as well. Since they were succeeding at a greater clip on MBT questions than W/S questions, they thought the majority of their prep time should be focused on their W/S struggles and that MBT was "good enough for now."
However, through viewing the stats on Must Be True questions, Dave noticed that they were struggling with identifying facts and argument structure in general. Dave told the student that they needed to go back and start with Must Be True questions and refine their skills and confidence in that area in order to gain a solid foundation for strengthening and weakening arguments in Weaken/Strengthen questions moving forward. Once the student got to around 75% success rate on Must Be True questions, they then began trying Weaken/Strengthen questions again and their performance shot up to over 50% success. If you can consistently figure out how to accurately complete Must Be True questions, then you can apply these skills to Strengthen/Weaken questions, Parallel questions, Flaw questions, and more.
Use the "Families" in the PowerScore Analytics
The question "Families" in the analytics will enable you to see weaknesses in broad connected concepts that apply themselves to multiple question types, and sometimes even multiple sections. For instance, Must Be True, Method Of Reasoning, Flaw In The Reasoning, and Parallel Reasoning questions are all grouped together in one family, and more often than not, success trends in the same direction for all of these question types. If there are negative trends in the Families area, it is an immediate warning sign that there are broader, more foundational issues that could use some work before diving into specifics. Once you focus on those foundational issues, you're extremely likely to see huge improvements on all question types under that family umbrella.

Awareness is Key
Ultimately, PowerScore analytics will help you make the most informed possible decisions about where to spend your time and energy on LSAT prep. If you can start to notice trends, you can duplicate your success and whittle down your struggles at a much more efficient rate. And if you need help processing all of the post-test information, reach out for help and work with a private tutor! Our experts have years of experience with these statistics. They can translate everything and create a study game plan for you in a way that's easy to digest and apply.
Don't just do test after test! Stare at the results, and dive into every detail of your prep. Sometimes stepping back and getting an expert's view of your unique prep habits and trends can give you the biggest boost of all. Self-analyzing isn't always easy, but once you get comfortable and know what to look for, these statistical analyses can open doors to improvement that you may have never thought existed previously!
If you decide that self-study isn't for you, consider enrolling in an LSAT Course. Whether you choose from a live online or on demand format, our top-scoring experts will give you the tools to take control of your future. If you have any questions at all, please don't hesitate to give us a call, send us an email, or fire up a chat request. We are friendly, helpful, and knowledgeable people who want nothing more than for you to destroy the LSAT!