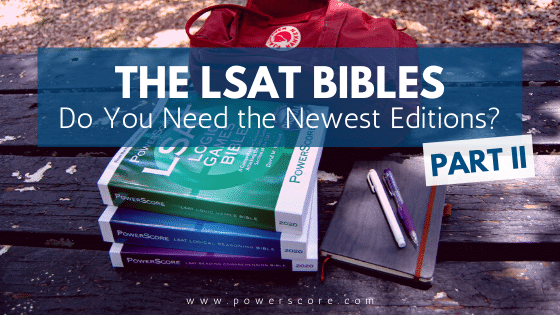 In Part I of this blog, I discuss why we use cover medallions on our LSAT Bibles to indicate the year of release. The short answer is that they help students identify the most up-to-date versions and avoid accidentally buying an older version that's out of date. In this continuation, I go into each book individually and provide an overview of some of the changes over the years. Want more in-depth explanations between specific years? Here are some breakdowns.
As a general note, when I get this question, it's usually comparing the current year with the prior year. And, unless the book has extensive or notable changes, I'll typically say that it's okay to keep the version you have. With two years between versions, there is often more extensive changes, including some that aren't immediately evident. Usually, the biggest changes to the books aren't fundamental conceptual overhauls. Rather, they are expansions of drills and discussions, refinements of explanations, and cover-to-cover adjustments to account for small test trends and recent points of emphasis. Let's get into a book-by-book explanation of what I mean.
The first LGB came out around 2001 and clocked in at 232 pages. By comparison, the 2020 version spans 746 pages. What changes over time? As you can see by the page count, a lot of things. We include new, refined, and expanded discussions of many critical LG concepts. We expand on discussions regarding question types and solution strategies. There are new drills, new Logic Games, a glossary/index that defines each term in the book.
With updates to the Bible, we often make upgrades to the book website. You can find dozens of pages of supplementary drills and online presentations on challenging concepts and questions for free! I list these changes here because we make similar upgrades to each book. This should give you a sense of the dimension of the additions, so I won't listen them out for the other books.
So, if you have an older version of the LG Bible, do you need to update to the current edition? The short answer is yes. We've done a lot to further your ability to adequately prepare for the LSAT, so invest in the newest version.
The first LRB came out around 2003 and was 541 pages in length. By comparison, the 2020 version spans 740 pages.
Similar to how the LGB improves, we add and refine almost all areas of the LRB over the years. This is especially important because Logical Reasoning accounts for two entire sections of the test. Over time, LSAC makes small changes that impacted argument evaluation and answer choice selection. As we anticipate and identify changes, we're able to keep the LRB on the cutting edge of preparation.
Over the years, we've added Advanced Causal Reasoning, revised the section on Parallel Flaw questions, expanded the Question Identifiers sections, etc. You will also see clarification on sufficent and necessary condition operation in Justify and Assumption questions. We added important content in the Numbers/Percentages section. Several of the changes are a result of new questions LSAC released. We want to make sure we account for the most up-to-date information. It's why we update them every year in the first place! These name just a few of the updates you'll find in the newest versions of the LRB.
What if you have an older version? Anything prior to 3 years ago needs to be upgraded, and if you have a version that is 1-2 years old, you should consider trading up.  While the earlier versions are strong improvements, the most recent version will always be your best option.
The first RCB came out in 2008, and was 360 pages in length. By comparison, the 2020 version is 520 pages long.
Over the years, we revised much of our discussion of passage diagramming and RC Comparative Reasoning question types. We've added a full section on Inferences and Assumptions. We've also expanded a large number of the book's drill sets, meaning that we took a pre-existing drill and made it longer and more comprehensive. You'll also see expansions in a number of other areas and discussions to make them clearer and more useful. The switch to digital also made a huge impact on how test-takers approach the RC section. We adapted our methods to help you conquer that change.
What's the overall verdict if you have an older RCB? If it's older than 3 years, you need a new edition. If it's 1-2 years old, it's more of a judgment call. The good news is that there's nothing incorrect in any of the older versions, it's just that the newest versions are better.
New Edition Timing
The last question we get concerns when we release new editions. The timing can change based on changes in the LSAT. In 2020 we made major adjustments primarily to help students prepare for the digital version of the exam. We tried to release them as early as possible so students taking this new exam format could prepare with confidence. Please let me know if that helps, or if you have any other questions. Thanks!