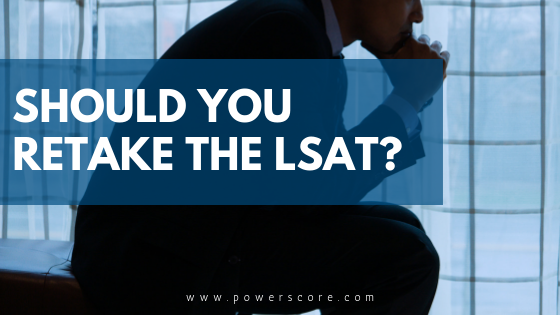 This article was updated 6.28.19 to reflect changes to the retake policy. 
When LSAT scores come out, many students are faced with the uncomfortable reality of a possible retake. With that in mind, consider one of the most common questions regarding law school admissions. "Should I retake the exam? And if I do, how will law schools interpret my scores?"
To help you better understand your options we put in some leg work ourselves. We've researched LSAC and top law school policy, spoken with many admissions counselors on the subject, and compiled our findings. Let's address some facts about the LSAT and admissions first. Then we'll weigh the considerations that factor into a potential retake.
How Many Times Are You Allowed to Take the LSAT?
As of June 2019, LSAC brought back rules that limit the number of LSAT attempts you're allowed. These rules do not come into effect until the September 2019 LSAT on September 21st. Despite the fact there are 10 test administrations beginning in 2020, test takers are now subjected to the following limitations:
Test takers can only take the LSAT three times per testing cycle. Testing cycles start in June and go through the following May.
You are allowed five attempts every five years.
There is now a lifetime limit of seven attempts, after which students cannot sit for additional tests.
One positive to come out of this is that these rules are not retroactive, meaning you start with a clean slate starting with the September 2019 exam. We covered these changes in detail on Episode 17 of our PodCast. These changes are very different from the previous retake policies, but are more familiar than not. Prior to May 2017, we saw very similar retake limitations.
That being said, don't let the limitation scare you. For one, most schools seem to prefer applicants with a score count of 4-5 or less. That is, at five or more attempts, schools may begin to question why it's taking so long for you to hit your target. Meaning it would be wise to then include an addendum explaining your situation. Secondly, repeat testing pushes you later into each application cycle. Rolling admissions may begin to work against you and app deadlines can prevent you from applying for the upcoming term. Be sure to consider your planned test dates and intended-school deadlines to ensure you make the cut.
A reliable rule of thumb: if you feel you can improve your score trying again, it's almost certainly worth it!
How Are Multiple LSAT Scores Reported?
There's some extremely good news for test takers here! Prior to 2006, LSAC policy was as follows:
"LSAC will automatically report the results of all LSATs in your file, including cancellations and absences, since June 1, 2002 [five years' worth of data]. The scores are averaged and also appear separately."

(Note: LSAC rounds up when calculating the average score).
However in 2006 the ABA (American Bar Association) changed its policies. It began requiring schools to report only the highest LSAT scores of students, regardless of how many times they had taken the test.
"…beginning with the October 2006 Annual Questionnaire, which collects LSAT data on the Fall 2006 entering class, the Questionnaire will seek 75th percentile, median, and 25th percentile LSAT data based on the high score rather than the average score for matriculants who took the test more than once."
Since schools now report only their students' highest LSAT scores to the ABA, all law schools now consider only an applicant's highest LSAT score. They're no longer required take the average score into consideration. Yes, schools will see all your scores from the past five years. And, yes, they do pay attention to scoring trends. For example, if your four attempts show four consecutive declines, you'll want to explain that pattern. In the end, the highest number that matters is the number that's reported so it's the highest number that matters.
Why is this good news? This means if you retake the LSAT and improve your score, schools will disregard your lower score(s) in favor of your best performance. The "penalty," so to speak, of multiple attempts has been largely erased.
Now Ask Yourself…
Now that we've addressed test-taking and score-reporting policy, let's consider some questions you should ask before committing to another LSAT.
How Can You Tell if a Retake is Worth It?
First, you need to examine where you currently stand.
How accurately does your score reflect your ability?
You probably have a good sense of how well you expected to do on the LSAT based on your practice test scores and your experience as you prepared.
Is your score far below your results on the practice tests? Did you perform significantly worse in an area than what is typical? Then you have a good reason for thinking you could improve your LSAT score on a retest.
On the other hand, is your real score within a few points of your last several practice tests? Is it still reflective of your performance close to the date of the next administration? Then chances of it miraculously improving on test day are minimal at best.
Simply put: how you perform as you practice is likely to reflect how you'll perform on the real thing. If your practice results are unsatisfactory, a retake is almost certainly going to be as well.
How did you feel the day of the test?
This is similar to the question above, in that you need to ascertain whether the score you received was representative. Are there factors that could have negatively affected your performance that might not be present with a retake? Were you sick or upset about something? Was there an issue at the test center that caused problems or affected you? How much did test anxiety play a role in your performance?
If a distraction made you feel that you weren't performing at your best, it might be worth retaking the LSAT. When you retake the test, you should feel at your best, when disruptions are less likely to hurt your score.
How does your score measure up?
Consider LSAT averages or ranges of students admitted to the schools you're interested in and see how your score compares. If you're above the qualifications your schools look for, or near the 75th percentile, there's probably no need to retest. If you're near or just below the average acceptance score, consider spending your time and effort improving other parts of your application. Working on your application may prove more valuable than another point or two on the test. Obviously if you're well below your target schools' averages, the need to retake the LSAT becomes extremely clear.  
If You're Leaning Towards a Retake
How will the next time be different?
Let's face it: you're considering a retake because, so far, you haven't gotten to where you want to be. For that to change on your next attempt, you need to change the way that you approach the exam. Whether that means you invest in a course, hire a private tutor, or dedicate more time to your studies. Without a different understanding of the LSAT, there's no reason to expect a different score. Be honest with yourself about how you intend to prepare for the next attempt. Only commit to it if you know there's a significant chance you'll be a different, better test taker on the coming exam.
Are significant score improvements possible, given the right preparation?
I routinely (daily, in fact) hear this sort of question regarding potential score increases. And my response is generally this: the LSAT is not an I.Q. test! That is, it tests how well you understand the LSAT. It doesn't test how innately intelligent you are, or your vocabulary, or your knowledge of subjects like Science or Law. Conquering the LSAT is solely dependent on you recognizing the common elements used by the test makers. From reasoning types, to Logic Games setups and scenarios, to answer choice traps. And from there, having powerful strategies with which to respond to those elements. That's it.
What that means is that dramatic score increases are possible, often in a fairly short period of time. Assuming you receive proper training and you practice with the right approach. We routinely see students achieve 15-20+ point score increases after studying the proven techniques taught in our courses. The use of real LSAT questions, examined and deconstructed by world-class instructors with top percentile scores, allows people of all abilities to break down the LSAT and unlock their true potential.
So should you retake the LSAT?
Retaking the LSAT isn't a decision to make lightly. It will require time for continued preparation and further testing and it will undoubtedly cause some extra stress as you work to get the rest of your application in order. It's generally worth the time and effort to give the LSAT another shot if you know that your current best score isn't sufficient to get you into the school(s) of your choice and if you think you can do significantly better.
Considering a retake but wondering if it's the right decision? Let us know in the comments section below and we'll happily assist you further!