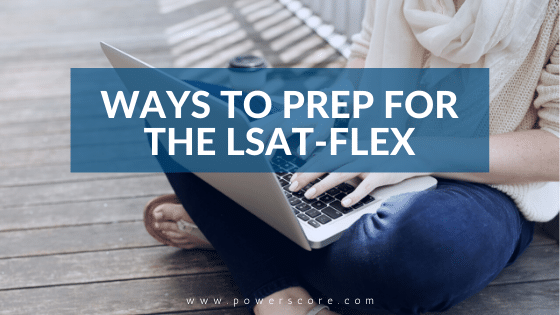 Updated 4.29.20 to include the 2020 June LSAT cancellation.
LSAC's introduction of the LSAT-Flex for March, April, and June test cancellations has thrown everyone for a loop. This odd exam includes only three sections and is administered at home. With all of the uncertainty the coronavirus brings, we're here to take some of the uncertainty out of preparing for this test. Below you'll discover some of the things we've done to help affected test-takers prepare. If you're a current student, a lot of these features have already been added to your Online Student Center.
Exclusive Courses for LSAT-Flex
With the official announcement of the LSAT-Flex test dates, we've added a new Accelerated Course. These courses are in place to help LSAT-Flex test-takers with this odd-ball exam. More details about these courses:
$395

$316
Saturdays & Sundays, 11AM to 3PM ET
The course includes an Accelerated Course book and an extensive Online Student Center that features On Demand videos, Lesson and Homework explanations, and a 3-section Practice Test with score and performance analytics.
Talking points directly related to the LSAT-Flex include scoring and strategy for the format, at-home testing pros and cons, and security measures and other concerns.
We have 3 schedules available in May. First days of class are May 2nd, May 19th, and May 23rd.
3-Section Digital Exams
Want to take a real LSAT that perfectly mimics the LSAT-Flex experience? We just launched a series of digital "LSAT-Flex" tests featuring 3 sections instead of the normal 4, available for purchase for just $7.50 each on our Digital LSATs site. We also employ an adapted scoring algorithm to convert your raw Flex score into a final, scaled score out of 180. You have access to your tests for 180 days.
Raw Score Conversion Calculator
If you want to simulate a 3-section Flex test on your own, you'll need to be able to translate that raw score into a usable, 4-section raw score. To assist in the conversion, our Vice President, Jon Denning, designed a customized calculator that will predict what your raw score would have been on the full test based on the number answered correctly on the abbreviated, Flex version. With that predicted raw score you can then use the test's scoring scale to determine your final scaled score!
Additional Resources on the Coronavirus & LSAT-Flex
Podcast Episodes
LSAC's site also addresses LSAT-Flex, COVID-19, and more. For more information on how to protect yourself from the virus, please visit the CDC's website. Also, don't forget: we are still running our Stuck at Home sale to help students preparing for the LSAT is these weird times! Stay safe, study hard, and let us know if you have any questions!