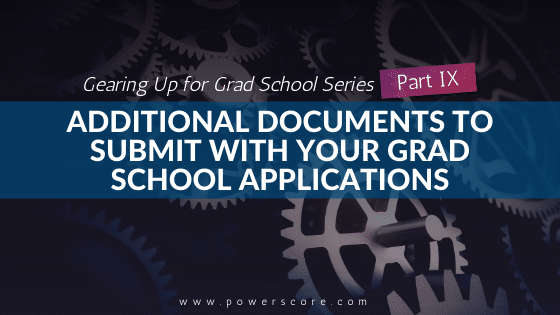 Applying to grad school can feel like a maze of requesting documents, taking tests, and writing essays. How do you make sense of it all, and be successful in your quest for admission to a graduate program? We're breaking it down, step by step, in this blog series. This time, we're talking about additional documents you may need to submit when you apply to a graduate program.


Along with everything else your grad school application calls for, you also need to prepare other documentation depending on the school. Most, if not all, programs of repute will ask you for additional documents. In fact, many of them will ask for multiple pieces. Let's go over what those may be.
GRE Subject Test Scores
Make sure your read the application instructions carefully–some of them may recommend or require that you take GRE Subject Tests in addition to the GRE itself. This is mostly applicable to those seeking advanced degrees in the sciences, although there is one GRE Subject Tests in Literature in English that you may be required to take if you're looking for an advanced degree in a related discipline. If you do have to take a GRE Subject Test, make sure you check out the GRE website; it has plentiful information on the subject tests, as well as practice information and booklets you can download for free.
Supplemental, Department-Specific, Application Materials
Some programs may require you to submit a one- to two-page department-specific application in which they will ask about your background in the field, may ask you provide responses for some short-answer question, and might ask you to list your motivation for pursuing an advanced degree in a particular discipline. Again, read the application instructions carefully. Often, the departmental website will list department-specific supplements. Make sure to double-check–and call the school if you're unsure of the requirements.
A Writing Sample
This is a fairly common requirement. It can take the form of many different things: a critical or scholarly paper, a term paper, a senior thesis, a master's essay. In every case, make sure that your sample is extremely well-proofed. So, check for grammar, spelling, punctuation, tone, theme, cohesiveness. Ideally, you should be the only author as well. Some schools specifically state they do not accept co-authored pieces. A few things to keep in mind:
Some programs have page limits on the sample. Stick to it!
Sometimes, departments will want the sample written about a specific topic. If they do, oblige them!
Some may request a piece that's actually been published in a scholarly journal. If you do not have such a piece, contact the school and inquire as to what you can submit in its stead. Do not simply submit an unpublished piece!
Miscellaneous Achievements
Advanced Courses. This is generally just a list of advanced courses taken previously in the field in which you are seeking an advanced degree It is very self-explanatory. The only note here is to make sure you include courses that are truly advanced. You do not need to provide a full recounting of all courses in a specific discipline, only the advanced ones.
Published Articles. Make sure you provide this list in whatever citation format (either MLA or APA) preferred by the institution.
Specialization Essay. This is an essay detailing specific concentrations or areas of desired specialization Again, this may be something that is not readily seen in the general application. Make sure to read the department- or program-specific application instructions, and that you stick to the content, length, and formatting specifications detailed.
Musical Compositions.
Artistic Portfolio.
There are many different types of additional documents you may be required to submit as part of your application. Make sure to read the application instructions carefully. Often, admissions offices will not read incomplete applications until you finish submitting everything. Easily avoid these delays by submitting all documents from the start.
Read the Full Series