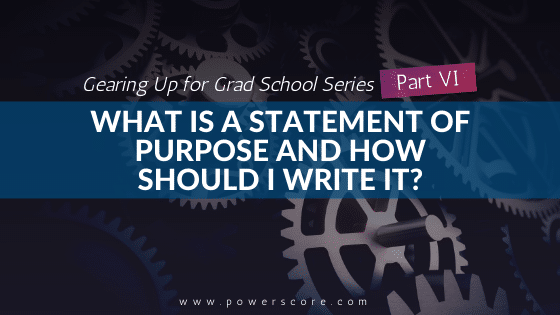 Applying to grad school can feel like a maze of requesting documents, taking tests, and writing essays. How do you make sense of it all, and be successful in your quest for admission to a graduate program? In the 6th installment in our "Gearing up for Grad School" series we're talking about your statement of purpose: What it is and how you should write it.
What Is a Statement of Purpose
The statement of purpose is one of the primary elements of your grad school application. In it, you directly address why you want to go to grad school, why you're interested in your particular academic field, why you're qualified for graduate study, and what you career plan is. This is why it's called the statement of purpose. You're distilling your purpose in pursuing a graduate education, detailing your plans for this particular academic path.
This essay is, in theory, very easy to write. At this point, you should have already chosen grad schools you want to apply to and determined what you want to do with your graduate education. However, articulating this information may prove difficult. The inability to clearly present your reasons and plans may result in a very vague statement that leaves schools wondering why you're applying there in the first place.
Consider the Prompt
Graduate schools should provide you with a prompt for your statement of purpose. Let's determine exactly what pretty much every graduate school wants to hear about in your statement:
Your purpose in applying for graduate study. This means you have a concrete, well-thought-out reason for wanting to pursue this course of academic action. Something akin to "I don't know what else to do," or "it seems like fun" will simply not cut it. This degree needs to fit in with your academic, professional, and overall life plans! You need to be able to clearly articulate why.
Your particular area of specialization within the major. This means you need to go beyond the basic academic umbrella, and go into this program knowing your field of specialization. This automatically implies that you need to know your field of interest well enough to be able to pick a specialty before you even set foot on campus. If you can't answer this question, you may not be ready for graduate study.
Your plans for future occupation or profession. This includes your career goals, which means you need to have thought about them already.
Any additional information that may aid the selection committee in evaluating your preparation and your aptitude for graduate study. The key here is noting that the additional information needs to relate to your preparation and your aptitude for graduate study. This means that your answer, while it can branch out and talk about subjects other than your purpose, specialization, and plans for graduate study, still needs to somehow relate back to graduate study. This is not the time to go on a tangent and talk about your prowess in marathon running, or your penchant for travel (unless either of these directly relate back to the field you will be studying). Your focus on the statement of purpose needs to remain on your graduate studies.
Steps to Writing Your Statement of Purpose
So, how do you go about penning this essay? As stated earlier, you should have done extensive research into each school by now. So, you should have already reflected deeply on why graduate school, and a particular field of study, is for you. Now's the time to fine tune this research and self-knowledge. Do the following:
Research

. Spend time going over the specifics of each school, in particular the academic path you want to follow. Find information about classes, specializations, professors, and academic offerings unique to the school that make it an ideal choice for you.
Interview

. If possible, talk to professors in your field, and those already practicing in similar areas to the one you want to pursue. Ask  them about how they spend their days, what they enjoy about their job, and what made them choose it. Ask professors about the subjects they teach, and why they teach them.
Think

. Once all this information has been obtained, carefully consider valid reasons for why you want to go to grad school, and why you want to follow this particular career path.
Articulate.

 Talk to someone close to you about your reasons for why you're choosing these particular schools and programs. This will help you organize your thoughts, and will allow you to hear your arguments out loud (which can be very helpful).
Final Thoughts & Tips
Don't feel that you need to tell a grad school how well-rounded you are. It's simply not necessary. They are not interested in your hobbies outside of your academic interest–at least, not in the statement of purpose. What they're looking for in the statement of purpose is evidence of academic prowess and desire to delve deeply and master a very specific academic subject.
In addition, make sure to highlight those activities and skills that will underscore your ability to undertake graduate work. Research, writing, reading–all of these are important. If you've taught classes before, in any subject, make sure to bring it up–graduate students are often called upon or required to assist with, teach, or even create academic courses, so if you have these skills already, make sure to turn them into a part of your statement.
Above all, give yourself time to write this statement. Don't try to create it from start to finish in a few hours, or even a few days. This essay will be highly scrutinized, so make sure it is exceptional. Allow yourself to think, process, brainstorm, and write multiple drafts, until you're happy with the results.
Read the Full Series