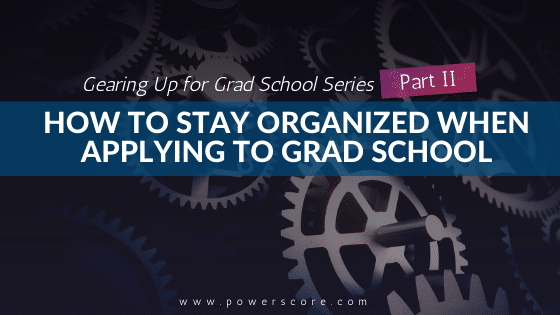 As we saw in the last post, there are many moving parts to keep track of when applying to grad school, including:
The application form

Statement of purpose

Letters of recommendation

Résumé

Transcripts

Standardized test scores

Additional essays and documentation
When this many balls are up in the air, it becomes easy to drop some of them! To make sure you don't miss a beat and keep on top of your apps, you need to organize yourself. You should do this before you even fill out your first application form. Below is our recommendation for how to get yourself in order.
List Your Schools
Make a list of your schools. Then you won't have to worry about remembering the name of each institution you're considering. The less clutter in your brain, the more clearly you'll be able to think.
List Your Deadlines
Make a list of application deadlines as well as a list of when you want your applications submitted. The two are not always the same and, the earlier you can apply to a program, the better. Many programs practice rolling admissions or staggered deadlines, which means that your application will be looked at (and a decision potentially made on it) well in advance of the official final deadline. Applying early can give you an edge, since fewer admissions decisions will have been made, and there are more seats left in the incoming class. Having a list of deadlines will also give you an idea of how long you have to get everything completed, and when the absolute last date to everything in is.
List What You Need
Make a list of what you'll need to submit for each school. Some schools want you to write three essays, while others only need one. Some may require you to submit samples of your research, while others want an in-person interview. Some will require 3 letters of recommendation, while others make it optional or request only one. The requirements can get confusing and overwhelming, so write them all down so that you can keep them straight, and not forget anything.
Plan Your Test Date
Establish when you are taking the GRE, and what you're doing to prepare for it. Are you going to take the GRE before you do anything else? Are you doing to do it in the midst of preparing your applications? Do you want to wait until you're done with your apps before you take it? These are all things that are important to consider. And how will you study? Will you take a course? Use books? These decisions can alter your timeline, so figuring them out ahead of time can help you plan.
Determine Your Recommenders
Put some thought into who you want to ask for letters of recommendation. Don't wait until the last minute! Getting these letters can be the most time-consuming part of your application. Remember that they need the time to consider your request, write their letter, and submit it. 
Consider Admissions Counseling
Even before starting the application process, consider whether or not you plan to get an application consultant. If you are, the sooner you do it, the better. As deadlines get closer, consultants become booked, and they may not have availability to take you on. A consultant can provide invaluable insight to your application, and can help you craft an exception application package, but only if you start early. 
The importance of keeping tabs on all the different elements of your grad school apps cannot be underestimated. Take the time to make lists and know deadlines and components before you formally start the process, and you'll reap the rewards in the long run. 
Read the Full Series