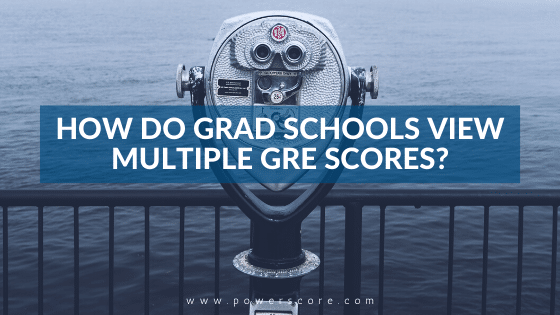 In a perfect world, everyone would take standardized tests only once. It would eliminate having a low score on your score report and cause less guessing games when applying to grad school. We don't live in a perfect world, though, and most students take the GRE more than once. So, the questions remain. Do they average scores? Do they take the highest or the lowest total score? Or do they take the highest/lowest score from each section? How do grad schools view multiple scores??
For now, the GRE Board policy is to retain a record of all your GRE scores from the past five years. Those that have taken or are considering taking it more than once often worry that multiple scores can adversely impact their admissions chances. Fortunately, there is no evidence of multiple scores hurting you. In fact, taking the test more than once can actually increase your chances. Let's go over the different ways graduate schools view multiple scores.
Score Increases Emphasized
Many schools consider your portfolio of GRE performances and place special emphasis on score increases. This means that an admissions board will view all scores, but they will give more attention to those with a noticeable score increase. This is great news for students who do not score as well as they would like on their first attempt.
Best Individual Section Scores
Other schools look at each performance and take your best individual score from each section. To better understand this policy, consider the case of an applicant who take the GRE two separate times with the following results:
First GRE Results: Verbal = 620, Quantitative = 510, Writing = 4.0
Second GRE Results: Verbal =700, Quantitative = 500, Writing = 5.0
Schools that follow this policy would use the 510 Quant, the 700 Verbal, and the 5.0 Writing. This "best section performance" approach is a great benefit to applicants because it diminishes the effects of a poor performance on a single section of the GRE.
Talk to Your Prospective Schools
Neither of the two approaches described above is unfavorable to candidates with multiple scores. But keep in mind that different schools have different policies regarding multiple scores. Contact each school you want to apply to and inquire about their multiple score policy. Understanding how the schools will use your scores places you in the best position to make an informed decision about whether to take the GRE again or whether your admission chances have been hurt by multiple tests you took in the past. You should also note that some graduate programs put much more weight on a specific section of the GRE than on other sections. For example, if you apply to an English program, the admissions committee is likely going to pay more attention to your verbal score than your quantitative score.
If you don't feel as though you performed as well on the GRE as you'd like, you can always cancel your score before it becomes official. Just note that doing this doesn't make the score disappear entirely. A score cancellation note will still appear on your permanent record.
Additional Resources