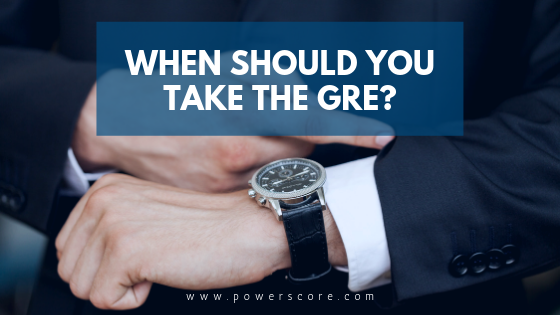 Trying to figure out the best way to time and tackle the GRE? We've got some advice for you from our Grad School Admissions team. Before we get started, this post makes the assumption you are taking the computer-delivered test because it is the most frequently administered version. The paper test is only available up to 3 times a year.
When Should I Take the GRE?
Try to take the GRE about a year prior to your expected entrance into Graduate School. Preferably, any time during the summer or early fall. The deadline for taking the GRE will vary dramatically depending on the admission procedures of each school you apply to, the specific program, and the term you are planning to enroll. Review the application guidelines to see if you need to take a Subject Test in addition to the General Test. Subject tests are only offered three times a year, so factor their schedule into your timeline.
How Many Times Can I Take the GRE?
You can take the GRE up to 5 times in a 12-month period, but only once every 21 days. If you know that you can increase your score considerably, schedule time in your planning process to register, re-take the test, and have the new score submitted to the school before the application deadline. This is an especially good idea if you were ill or had family/personal problems that effected your score. Both scores will be reported to the schools you apply to.
Should I Take the GRE Before I Apply to Schools?
If you take the GRE early enough, you'll have access to your score before applying. This can help you plan your application strategy accordingly! You're able to apply to a variety of schools where you will be competitive. To be on the safe side, pick a "safe" school; one that you know you will be accepted to. It might be a good idea to apply to schools that are more of a long-shot, too!
If you're planning on utilizing a school that uses a rolling admissions process, you will want to make sure your application is in early. Usually "early" means sometime between December and February, but it does depend on the school. Rolling admissions means that applications are reviewed on a first come, first served basis only. As a result, some schools may already have filled their classes before their final deadline! But this also means that they will continue reviewing applications until spots are filled.
When Will I See My Score?
After taking the GRE, you are given the opportunity to either Cancel or Report your scores. If you decide to report your score, you will see unofficial scores for the Verbal and Quantitative sections. The Analytical Writing essay will not be available at this time because of the scoring process. You will receive your official score 10-15 days after your test date. It's automatically sent to up to 4 schools of your choice and will be available in your ETS Account.
Should I Schedule a Date/Time to Take the Test?
Because the GRE General Test is a computer-adaptive test (CAT), you can take the exam at one of the testing centers throughout the year. Each test center has its own schedule of operation, but available time slots can fill quickly, especially weekends. In some cases, it is possible to schedule an appointment a few days before the test date. Sometimes, you can even get away with a walk-in to take the test. But, don't count on either of these scenarios. We recommend booking a time and date at least a month in advance. If you are limited in your availability or expecting to take it during the busy months of November through January, it's not a bad idea to schedule 2 months ahead.
If you need to take a GRE Subject Test, make sure you schedule this test at least 6 weeks in advance. Again, they're only given 3 times a year, so plan ahead in case you need to re-take this test.
Visit www.gre.org for a list of test center locations and to register online.