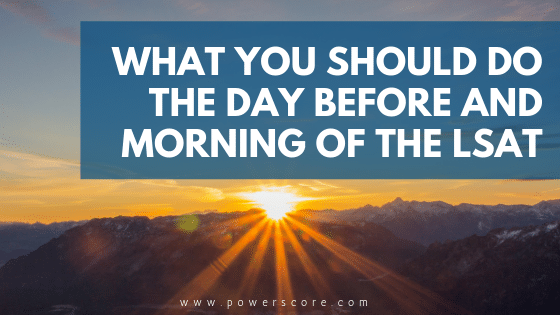 Your LSAT date is almost here! As you finalize your last-minute preparation for the test, remember that there are things you can do outside of LSAT prep to help ensure your best performance on test day.
The Day Before
Read back through your LSAC email containing information about the Prometric virtual proctor system and requirements for your device to successfully run the platform. If anything has changed with your internet connection or device since you signed up for your testing time – you can run another system test via Prometric. This email will also contain information on who to contact in the case of any technical difficulties or proctor issues during your exam. Make sure you know where to locate this email just in case!
Double check that you know your username and password for BOTH your LSAC account and your Prometric account. Don't put unnecessary stress on yourself on test day struggling to remember login info that you might have created a while ago. Just take a minute to log in to both accounts and reset your passwords to something you can remember on test day if necessary.
Make sure you know where your valid ID is located. You'll need to show it to the proctor on test day and won't be able take the test without it!
Set your room up for testing. You will need to show the room you take the test in to the virtual proctor before you start, so rather than scramble the morning of test day, go ahead and get your room optimized for the LSAC test taking regulations the day before. Once again, you can refer to the email LSAC sent you for the full list of requirements. Make sure that your desk space is completely clear other than the allowed items, make sure any screens/electronics in the room are turned off, and there aren't any notes or pieces of paper with writing on them displayed throughout the room that could be brought into question by the proctor.
Avoid studying! This is not a test where "cramming" is particularly effective. Instead, try to relax as much as possible. If you feel you must study, we recommend that you only briefly review each of the concepts covered in our materials.
The night before the test, get the best sleep possible. 8 hours is ideal! Do not drink alcohol.
Try not to stress! You know the techniques, so get ready to attack the LSAT!
The Morning
Try to follow your usual routine. If you don't usually drink coffee, for example, this would not be the morning to start. Consistency will help you stay focused on your primary objective: crushing the test.
If you have time, do a few Logical Reasoning questions for a quick "warm up" before beginning the exam. Three or four questions should be sufficient. Warming up works really well for many people, but not everyone. If you're not sure, read this first: Should You Do Warm Up Questions the Morning of the LSAT?
Eat breakfast! See our discussion of Brain Food for more information on what to eat.
Set the thermostat. Make sure that the space you are testing in is at an ideal temperature for you. Don't allow an additional distraction of being too hot or too cold while you're in the middle of the test. Be proactive and ensure that your testing space feels as comfortable to your preferences as possible ahead of time.
Plan to sit down at your testing device early! Check your internet connection and make sure your device is running optimally. The more confidence you have in the technical aspects of the Flex-test experience that you can control, the more you will be able to relax as the test gets underway. Also, double check that you have all the allowed items that you need on your desk for the proctor to see (ID, pens/pencils, scratch paper, earplugs, etc.).
As you are getting ready before the testing time slot you signed up for (there is typically a 5-10 minute wait period before the test begins), run through the test in your head. Visualize an exceptional performance. To perform well on the LSAT, believe that you can perform well. Imagine how you will respond to each logic game, reading passage, and logical reasoning question. Elite athletes use this technique to optimize their performance in sporting events.
Best of luck! You got this.