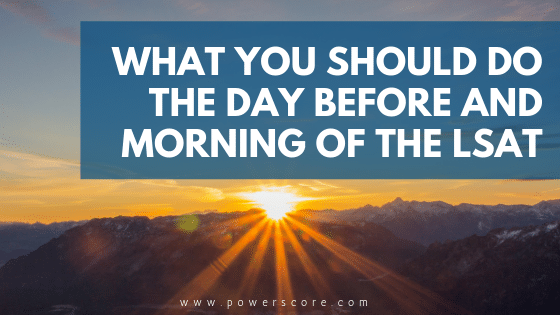 If you're taking the LSAT-Flex, head to this blog post!
The LSAT is almost here! As you finalize your last-minute preparation for the test, remember that there are things you can do outside of LSAT prep to help ensure your best performance on test day.
The Day Before the LSAT
Be certain that you have your LSAT admission ticket from LSAC. Make sure the information on the ticket is accurate. Remember, your first and last name on your ticket must exactly match the first and last name on your valid photo ID. Your admission ticket can be in color or black and white, LSAC has no preference.
A great resource for what you can bring to the LSAT can be found in this post: What Can You Bring to the LSAT?
Don't forget to take the correct form of ID and a picture to the testing center. You cannot take the test without it!
Since backpacks aren't permitted in the testing center, put together a plastic Zip-Lock bag with everything you plan to bring. Here's the official list of approved items.
Avoid studying! This is not a test where "cramming" is particularly effective. Instead, try to relax as much as possible. If you feel you must study, we recommend that you only briefly review each of the concepts covered in our materials.
Assuming you haven't been to the test center, be certain that you know exactly where it is, what time you need to be there, and where you should park. If you have a chance to check out the testing room itself, do so. Then, it will be more familiar to you on test day.
The night before the test, get the best sleep possible. 8 hours is ideal! Do not drink alcohol.
Try not to stress! You know the techniques, so get ready to attack the LSAT!
The Morning of the LSAT
Try to follow your usual routine. If you don't usually drink coffee, for example, this would not be the morning to start. Consistency will help you stay focused on your primary objective: crushing the test.
If you have time, do a few Logical Reasoning questions for a quick "warm up" before beginning the exam. Three or four questions should be sufficient. Warming up works really well for many people, but not everyone. If you're not sure, read this first: Should You Do Warm Up Questions the Morning of the LSAT?
Eat breakfast! See our discussion of Brain Food for more information on what to eat.
Dress in layers, so you can stay warm in a cold room, or shed some layers if the room is hot. Note that no hats or hoods are allowed in the testing center with the exception of religious apparel.
Plan to arrive at the test center early. This allows you to relax and not have to concern yourself with getting caught in traffic and having to rush!
As you are getting ready to leave for the test center, run through the test in your head. Visualize an exceptional performance. To perform well on the LSAT, believe that you can perform well. Imagine how you will respond to each logic game, reading passage, and logical reasoning question. Elite athletes use this technique to optimize their performance in sporting events.