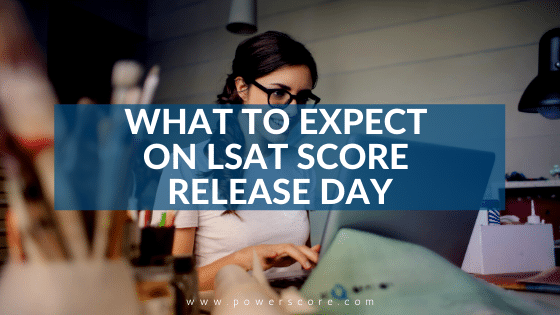 As the long countdown finally nears its end before any given LSAT score release day, we always like to present students with a handy list of reminders about how the process takes place. Keep tabs on this checklist so that you know exactly what to expect!
Scores are no longer released in batches over several hours, but are now being sent out en masse at/just before roughly 9 am EST. There may still be some slight delays however, both for the start of the release and for your individual results to arrive, so don't panic if you don't have an update right at 9. Give it 10-15 minutes and you should have your number. And if LSAC's system encounters any issues that delay things further, as happened with the July 2020 release, you'll still get your result at some point in the morning.

All people with an lsac.org account will get an email informing them that their score is available in their account. NOTE: the email that is sent will NOT contain your score and its percentile, so don't fear opening it before you're ready to see your results! It's simply a notification that your score can be viewed by logging in.

Your LSAC account is meant to update more or less simultaneously with the email that is sent, however as with all things LSAC and tech it may not be perfectly synced: recent releases have often seen LSAC accounts updating 10+ minutes prior to the email's arrival, so if you want scores as soon as possible plan to refresh your account rather than your inbox.

The score itself will be found on your main account page under LSAT Registrations > View LSAT Registrations and Statuses.

LSAC cannot tell you your score before it is released, no matter how much you beg. Calling and asking for it early won't yield results, so don't bother.

Because this February test is nondisclosed, you will only receive your score and its percentile. You will NOT get a copy of the test, its scoring scale, or your answer sheet. In short, you'll know your outcome, but not the specifics that produced it.

For anyone checking account icons for the notorious "going grey" moment, LSAC hasn't used the grey icons for any of the past several LSATs, and for the tests prior they wouldn't typically go grey until around midnight EST. So if they stay green all night there's nothing wrong—totally normal these days!

Somewhat less normal (even still) is the LSAT Writing requirement: you must have a completed/approved Writing sample on file with LSAC for them to release your results! Anyone with an approved essay from the past five years is in the clear, but people who have never submitted an essay—i.e. have nothing in the system—will not get their scores until that task is complete.

Under the current rules, people with their only essay still pending or under review will not get scores until that essay is approved. LSAC is working feverishly to sign off on recently-submitted essays, but know that if you've only just completed the Writing it may be a few more days before your essay is cleared and your score is available. You just have to be patient, I'm afraid.

Lastly, and most importantly, your LSAT score is an undeniably big deal, but it doesn't fully define you: not as an academic, not as a potential law school candidate, not as a someday-lawyer, and certainly not as a person. For all that the LSAT purports to measure, it fails to measure a great deal more, and the innumerable qualities and virtues left untested—integrity, empathy, humor, compassion, courage, fortitude, charity, ambition, wisdom, grit—vastly outweigh those scrutinized for a few tedious hours at a computer. So keep that firmly in mind, no matter the results.
Wishing everyone the best of luck! Keep us posted on how things turn out, and if you find yourself with points left to gain don't lose hope: remind yourself that this is well worth the effort, re-invest in your prep and your future, and trust that you'll reach your full potential on your next attempt!