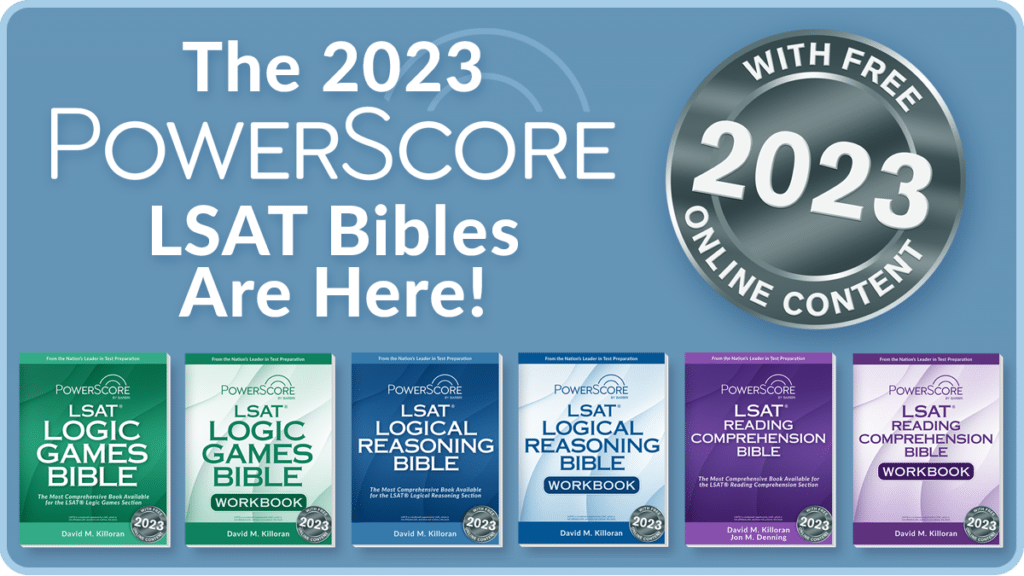 Do the Books Change Every Year? Yes!

Each year I make revisions and updates to the LSAT Bibles, and there are several different reasons for that:
First, new LSATs are released each year. I make changes to some of the content to account for new directions taken by the test makers. This includes adding new sections and changing others.
Second, I regularly talk with LSAT students and also teach various sessions throughout the year. The feedback I receive helps me shape and improve parts of each book.
Finally, I frequently re-read the books and consider whether the material is being presented effectively and whether we have been getting a higher-than-normal number of questions about certain parts.
All these factors together result in the books changing every single year. This is why we put special "year" medallions on the cover of each book, because, for example, the 2019 LSAT Bibles are not at all the same as the 2023 LSAT Bibles.
New Online Digital Materials

Below I'll detail some of the book changes. But, in addition to the individual book changes, this year also marks the start of our relationship with our sister company, West Academic. When you get to law school, you'll get to know West very well as they publish thousands of law school books.
For our purposes, we are using West's Digital Bookshelf to provide a wide variety of supplements and additional materials for the LSAT Bibles. To access these materials, there is a code on the inside front cover of each book that allows you to access the West system and get your materials for free. And, there's a cool little set of Easter egg discounts there too, including getting the first month of our On Demand LSAT course for just $1!
Each Book Has Been Streamlined

One change that applies to all three LSAT Bibles is that I felt they were becoming too large, so I've cut down each book. Every year I have added new material to the book, and over time they have grown quite large. For example, the first Logic Games Bible was 232 pages and the 2022 version was 732 pages! Those additions were made to improve the books—and each individually did so—but the overall size of each was a burden and made it harder to finish each book. So, this year, I've streamlined each book down to make them more readable and easier to use. The extra content went into the new West Bookshelf mentioned above, so those materials—and more!—are still available to book buyers.
With the above in mind, let's discuss the general changes book by book.
The 2023 LSAT Logic Games Bible
The 2023 version of the LGB is now 704 pages.
Dozens and dozens of pages in this book changed. Of course, all the usual updates have been made to the listed stats and strategies. We've also moved a number of less frequently tested and more challenging book sections into the Digital Bookshelf. This allows readers to focus a bit more on the topics that are the "meat" of the Logic Games section. In the Digital Bookshelf we added a number of resources, including additional materials, explanations, and quizzes.
The 2023 LSAT Logical Reasoning Bible
The 2023 version of the LRB is now 686 pages.

This book also slimmed down, and we moved several very rarely tested items onto the Digital Bookshelf. Nested conditionals is a great example; it's a confusing and rarely tested topic, so we moved it online where advanced students can still access it and work through the text and drill. The online area also has some new additions to it, and are more robust resource than before.
The 2023 LSAT Reading Comprehension Bible
The 2023 version of the RCB is now 492 pages.
This book changed the least of the three LSAT Bibles, but it too was slimmed down a bit and saw content transferred online. The new RCB Digital Bookshelf also contains valuable resources including a list of the hardest RC passages of all time, and a Reading Comp Skills Tests webinar hosted by the book's authors, Dave Killoran and Jon Denning.
Thanks and happy reading!