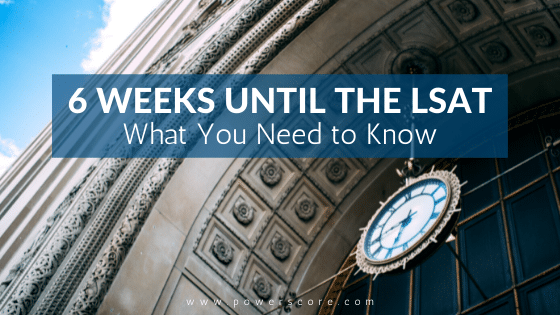 If you're here, you have about six weeks until your next official LSAT administration. You're in the home stretch! Don't panic! I'm not here to freak you out. In fact, I'm here to help. 
Below you'll find a list of resources, links, and general suggestions, all designed to help you make the most of your final month-plus, and finish–or, dare I say it, even start–strong! First things first, you'll want to make sure you're registered for your exam. Don't delay! Go to LSAC's registration page here and sign up.
Now that you're registered, the next six-to-seven weeks become all about improving your LSAT score. If you are a student currently enrolled in a PowerScore course, congratulations! The course and your instructor will give you all of the structure and guidance you need to make the most of your time! Ditto for those about to begin a course.
For non-students, however, the path may be a little less clear, and you are my intended audience for this post. 
Study Plans
To capitalize on the remaining time, you first need a plan of attack! My colleague Nikki wrote a comprehensive six-week study plan posts aimed at self-studiers (those working with the PowerScore Bibles) that can be found here. If you are just starting out those are a tremendous asset, as they outline exactly what you'll need to do over the coming weeks.
For people a little further along–those of you who've been studying, or perhaps finished a class a while ago–consider our new Self Study Site and the various Study Plans provided there. In particular, examine longer Plans and how the final six or seven weeks of each are structured. See which Plan is most closely aligned with your current experience up until that six-weeks-left point, and use that Plan to guide you the rest of the way!
Practice Tests
For many people, the primary focus of the final month and a half is a shift away from conceptual understanding, and towards consistently taking timed practice tests, as you prepare your body and mind for the rigors of test day. Typically we encourage around 2 per week on average (three, or even four, is acceptable if you have the time and energy), but always prioritize quality over quantity. Given the choice of thoroughly reviewing a completed test, or taking another test, ALWAYS go with the review. Similarly, before you commit yourself to practice tests over conceptual review, you need to be fully confident that your conceptual understanding is rock solid! Don't skimp on the fundamentals to get to the application.
As you begin a more intense practice test schedule be sure to read this information to better understand exactly how you should self-administer an exam .
If you need additional tests or problem sets, our Testing & Analytics package has every released LSAT, as well individual test sections and isolated question type drills. Stock up! The clock is ticking and you want to ensure you have plenty of material in the days ahead.
Free Resources
Our philosophy at PowerScore has always been much more about how we can help, rather than how we can sell. To that end we seek to provide a wealth of free content and assistance to everyone, not just our students, looking to succeed on the LSAT. So let me direct your attention to a few spots where there's help to be found without paying a penny.
First is our LSAT Discussion Forum. Monitored by PowerScore instructors and staff nearly around the clock, the Forum is a place where students and non-students alike can ask questions, seek advice, and even post about their own LSAT experiences, and receive expert assistance throughout. Use it! 
Secondly, we have a Free LSAT Help Area on our website that covers every aspect of the test—from the fundamentals to the truly unique (Profile Charting games, say)—as well as Admissions. Again, use it! There is so much awesome content provided on those pages; take a moment and read through some of the articles, and listen to some of the virtual Lessons. You're sure to learn something useful.
Mentality
To use an oft-quoted line, "How you expect to perform on the LSAT is likely to become reality." Your final month or two, and in particular your final week, should see you actively constructing the ideal mindset for success on test day. You simply have to be in the right frame of mind if you want to perform as well as possible.
There are several great articles designed to enforce mental toughness. Read these closely:
Finally, in the days immediately before the test, watch the Virtual Module on Test Mentality at our Free Help Area. Be sure to follow the specific recommendations in that discussion! You still have plenty of time to see tremendous improvements in your LSAT score, but time is truly of the essence—spend the next six weeks wisely and give yourself the best possible chance to succeed on test day!
Thoughts? Questions? Let us know in the Comments below!