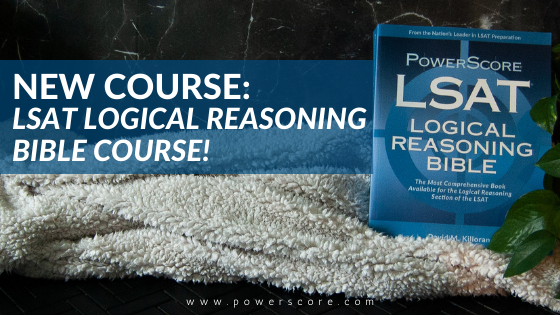 Today we are thrilled to announce the launch of our new LSAT Logical Reasoning Bible Course! This is the first step in what will become a full-fledged LSAT Bibles Course encompassing all three of our best-selling books. Let's take a look at what this new course includes as well as our plans for the future.
The New Course: Complete LR Mastery
The new course is built around our well-known Logical Reasoning Bible. We have taken the content in that book and created a series of short video lectures that discuss those ideas, elaborating on the printed material to give you unique insights and even deeper perspectives. And we've intentionally presented these videos using a slightly lighter, more user-friendly tone, along with a generous dose of our famed positivity, keeping the course fun from start to finish!
We've also explained every LSAT question in the book in video form (over 120 questions), as well as many of the drills, including the ones typically thought to be the most difficult. In total there are dozens and dozens of hours of instruction for you to dive into.
Your Instructors
If you listen to our industry-leading LSAT PodCast, you'll be happy to hear that the course is taught by Jon Denning and myself. Jon has been teaching the LSAT for almost 20 years and is one of the world's foremost LSAT experts. And I wrote the PowerScore LSAT Logical Reasoning Bible, the best-selling LSAT Logical Reasoning book of all time. Together we are the most experienced duo in all of LSAT preparation, and we know precisely what's needed to help improve your LR score.
The Cost
The course cost is a mere $19.99 per month! To enroll, you must be subscribed to our Testing and Analytics Package, as this allows us to show you the LSAT questions in the Logical Reasoning Bible, as well as apply the course instruction to all the extras our Analytics offers, including full tests, sections, and drill sets.
Together the course and the Analytics are an incredibly powerful combination, providing every conceptual technique in the LRB with the reinforcement necessary to make your new skills permanent.
What If I Have Questions While Enrolled?
All LRB course students can ask questions in our LSAT Discussion Forum, and there is a special section reserved for LSAT Bible students. Our instructors regularly answer questions there, and Jon and I also pop in to help out when we can.
Have questions about the new Logical Reasoning Bible Course? Let us know below, or get in touch at lsat@powerscore.com!