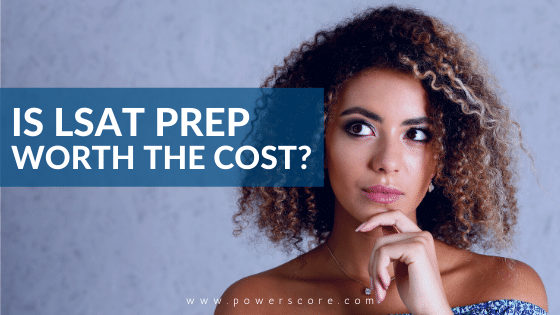 On Reddit the other day I saw a comment that stuck with me: "The LSAT costs $200 so I don't think I should pay more than that to prepare for it." While on the one hand I completely understand the presumption that preparing for this test shouldn't require much expenditure, on the other hand I also think that perspective only captures part of the picture. So let's take a closer look!
LSAT Prep Can Be Expensive
Of all people, I'm well aware that LSAT preparation can be costly. We offer courses that cost over $1000 and have tutoring packages that run even higher than that. So there's no denying the fact that it can cost a lot to prepare for this test. There are also less expensive options of course, and one of the reasons that I wrote the LSAT Bibles was to provide students with a high quality but relatively inexpensive way (less than $130 total currently) to prepare for the LSAT. We also offer a popular analytics package that provides self-study students with comprehensive performance feedback showing their strengths and weaknesses and valuable information about each test they take. The cost there? $20 a month.
With these lower-priced options available, why would someone decide to spend far more on their prep?
Your LSAT Score Is Critical
The answer seems clear: your LSAT score is a huge deal. For one, it is currently the most important factor in where you will be admitted to law school. And, since legal hiring seems to follow the strict hierarchy of school rankings, the better school you can get into, the better salary you can typically make coming out.
Equally importantly, a higher LSAT score usually leads to better financial aid offers during the admission process, which in turn can significantly lower the overall cost of attending law school. The natural conclusion then is that…
The PayBack For A Higher LSAT Score Can Be Tremendous
Because higher-LSAT applicants tend to receive more generous financial offers, the investment in LSAT preparation is often repaid many times over. I've seen countless students spend $5,000 on LSAT prep, then garner a score which led to over $100,000 in scholarships from a single law school. From this perspective, LSAT prep is all about investing in yourself. It's one of the few things you can do to directly and quickly lower your overall law school cost, and it can help you pay as little as possible to attend the school of your choice!
The equation becomes much clearer when you look at higher LSAT scores and their impact on the costs of attending law school. Let's compare two real students from the past cycle, both applying to the same Top 14 ranked school with roughly similar backgrounds:
Student 1: 3.71 GPA, 171 LSAT score: Scholarship total = $105,000 ($35K per year)
Student 2: 3.82 GPA, 167 LSAT score: Scholarship total = $74,000 ($24K per year)
So, even though Student 2 had a better GPA by over a full tenth of a point, they received $31,000 less overall on their scholarship offer from the same school. The difference? Their LSAT score was 4 points lower. And there are many more examples aside from this one.
LSAT Preparation Is An Investment In You
Viewed as a self-investment, the issue of how much prep costs becomes less about short-term expenditure and more about long-term return. Can you spend $500 and save $20,000? Or perhaps you invest $1500 and then save $60,000. I've seen both occur, and it's why we so aggressively encourage everyone to leave nothing to chance when studying for this test, whether they use our services or not. So, prepare as much as possible because you can save yourself thousands of dollars in future debt. And that leads us to a simple rule about this test: prepare like your future depends on it.
So, is LSAT Prep worth the cost? If done right, it's not only worth it, it is absolutely essential and may just be the best money you've ever spent.