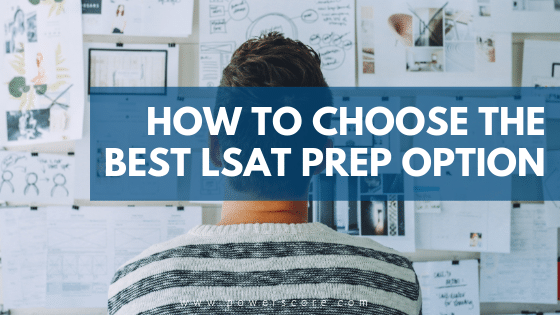 At the beginning of any given student's LSAT prep journey, we commonly receive two questions:
"How do I begin to prepare?"
"How do I pick the prep option that's best for me?"
In this post I'll do my best to answer both of those questions.
First, I'm obviously pretty biased when it comes to courses and prep in general. PowerScore is truly the industry leader when it comes to quality instruction and student results. For the purpose of this post, I'll avoid a blatant PowerScore pitch and instead take a different approach. So, here's broader advice to help you make the most informed and beneficial decision possible. These are the three most crucial steps when starting your LSAT journey:
Step One: Practice Test
Take a real, timed LSAT and score it to receive a comprehensive performance analysis. This gives you a clear indication of where you are at the outset. That initial score helps you discover your strengths and weaknesses and determine how far you are from your target score. There are a few ways to take a free practice test, and in each of these scenarios, we're here to help you get a better feel for your performance beyond just the raw score:
Sign up for a free LSAC account and utilize the two free digital practice tests in the  Official LSAT Prep program. After that, create a free PowerScore Self Study account to utilize our free Score Analysis Tool. Following the free practice test, you can input your answers with us and receive a detailed analysis of your score and performance.
While the LSAT is now administered digitally in North America, you can still download and print a .pdf of the June 2007 LSAT for free and take it the old school way with paper and pencil. Use our virtual proctor to time yourself, and create a Self Study account and enter your scores into our Score Analysis Tool for an immediate analysis of your performance.
The results of your initial practice test won't be indicative of your eventual performance on the official test, but it's a helpful exercise to let you know what aspects of the LSAT you have a natural inclination towards and which areas seem particularly foreign or tricky. With your score in hand, start to think about your study preferences and what type of prep option would be most conducive to those preferences. Would you like to self-study with prep books and practice tests? Receive guidance from an expert instructor in an interactive class? Make your way through on demand video lessons at your own pace? Hire a private tutor for one-on-one sessions? Here are some of the different options you can explore:
Someone with very narrow needs may benefit more from targeted prep via books or tutoring. Whereas, a person with wide-ranging struggles or a larger gap between initial and target score is more fit for a comprehensive course. It's common for the average test taker to utilize several of these options to really give themselves an edge on the LSAT.
Step Two: Research!
Truth is, as much as I stand by our gold-medal perch on the podium, there are a lot of great prep options out there these days. Most companies offer previews of their content and courses so that you can quite literally try before you buy. So, read up, shop around, and investigate before shelling out hundreds or thousands of dollars on an unproven investment. Don't go solely off of company-selected student reviews or website marketing text! Investigate the content itself to see how well it speaks to you and how likely you are to benefit from further exposure to it.
For instance, here's a sampling of some resources we provide that you can explore for free immediately.
This is just a portion of what we make available, all for free!
Step Three: Consider All of Your Options
No matter which LSAT prep option you choose, committing to a company means immersing yourself in its ecosystem and embracing its methodology. For this reason, it's imperative to consider how you and others are treated as potential clients before you enroll.
Simply put, the experience you have before making a purchase is an excellent predictor of how you'll be handled once you're a paying customer. I strongly encourage you to give any company that's caught your eye a call and speak to the customer service staff. Or, pull up a live chat online and interact with representatives. Above all, reach out to some of their top people, those in charge of the content they create and sell. This is the stuff your success will be depending on! Gauge their responsiveness and the help they offer you as a non-student. If they can't, or won't, help you in the early stages of your journey, what confidence should you have that you'll be well cared for when test day is looming and it matters most?
Once you've dedicated yourself to a prep route, be sure the people guiding you will be there every step of the way. That way, if you encounter difficulty or confusion you know you'll have helping-hands to get you through it. This is the single best way to ensure that you'll reach your goals on a test this tough!
None of that is to suggest that it's an easy or obvious decision, but hopefully keeping these things in mind early on will make the right path a little clearer.