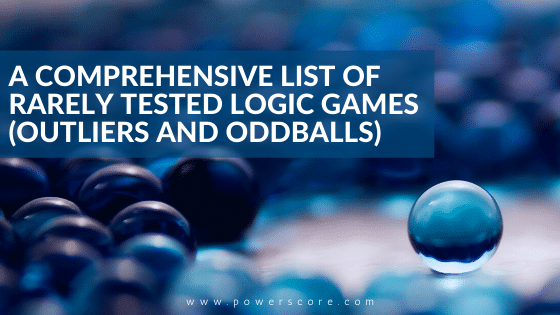 A tutoring student of mine asked me recently if I could put together a list of Circular, Mapping, and Pattern games that have appeared over the years, hoping to ensure that if the next test continues recent trends of LG weirdness he'll be ready.
So while it's always a reasonably safe bet that you won't see any games like the ones noted below, savvy test-takers are ready for any eventuality. To that end, you'd be wise to review a few games from each of the categories here, particularly those from any tests in the 2000s or later.
Circular
PT1: June 1991 Game 1
PT8: June 1993 Game 2
SuperPrep: February 1999 Game 3
PT41: Oct 2003 Game 4: PT 41
Don't miss this post on tiered Circular games.
Mapping
PT4: Feb 1992 Game 4
PT6: Oct 1992 Game 3
PT6: Oct 1992 Game 4
PT18: Dec 1992 Game 3
PT9: Oct 1993 Game 4
PT15: June 1995 Game 2
PT79: Sept 2016 Game 4 (this is the infamous computer virus game, which we labeled Linear/Mapping; full video explanation here)
Pattern
PT9: October 1993 Game 3
PT10: February 1994 Game 3
PT11: June 1994 Game 4
PT12: October 1994 Game 4
PT13: December 1994 Game 4
PT14: September 1995 Game 4
PT20: October 1996 Game 3
February 1997 Game 3 (note the remarkable similarity to December 1994 Game 4)
PT23: October 1997 Game 4
PT72: June 2014 Game 4 (trading workpieces; first pattern reappearance in almost 20 years)
PT77: December 2015 Game 3
PT80: December 2016 Game 4 (check out my explanation once you've attempted this game)
I'll also add PT86, November 2018 Game 3 (the mining company game; my setup thoughts here). While it isn't a classic Pattern game like those above, it's unique enough, and recent enough, to warrant some review. And if you'd like another game of a similar construction, try PT 60 (June 2010) Game 3 about stone and mulch.
Explanations for these games, as well as all others, can be found on our LSAT Forum!