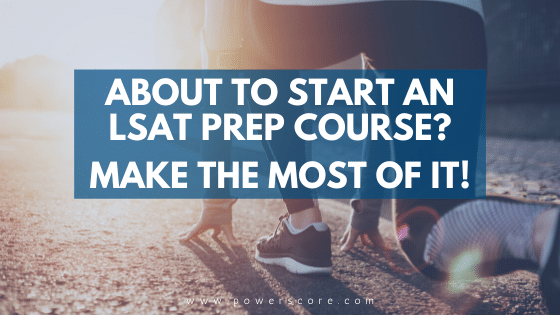 So you're thinking about taking a prep course! Test prep is a huge time and financial commitment. On top of that, the vast array of bells and whistles that come with a course can be daunting. Regardless of which test prep company you go with (hopefully it's us!), here are some steps you can take to make the most of your time… and money!
Show Up to Class
This one should be an obvious one. How do you make the most of it? Show up/log in and make a commitment to yourself to attend to every lesson. Only skip a class in case of an emergency. If possible, promptly make arrangements to make it up.  All of our courses feature virtual recaps of each lesson in case you are unable to make up a class. Don't assume, however, that you can skip class whenever you feel like it. This is a great resource, but obviously, they don't provide the same interactive experience you get during an actual lesson. In our Live Online Course, you have access to a recording of each lesson after the conclusion of each lesson. If you miss a class, make sure you watch that lesson before your next one to stay current.
Pay Attention
Most classes are around 3 long and it's sometimes difficult to maintain focus, but try your best. Don't distract yourself with your phone or tablet—whether it be on social media or chatting with friends. Why not? It's expensive. You're paying for each minute in the lesson, don't waste your money on something that can wait for class to be over. You may miss something important and/or crucial to your success on the LSAT.
Do Your Homework
Even if you show up to every single class, your score won't magically improve by some intellectual osmotic pressure. So, complete the homework for each lesson! Watch/read the conceptual overview, do the homework drills and practice sections, watch supplemental help videos. If you're a PowerScore student, you're not done with homework until you check the explanations for the questions you missed. If you have a hard time finishing homework before the next class, ask your instructor for suggestions about what to focus on.
Take Practice Tests
Practice tests are a vital part of your preparation. Start taking them early and allow plenty of time to improve your pace, build your stamina, and learn to switch gears between different types of questions. Of course, don't burn through half of them before you know what you're doing. There are only so many official LSATs available for you to practice with.
Use the Online Student Center
Almost all test prep companies will give you access to an online portal. At the very least, the portal should enable you to score your practice tests online. Most also provide an analysis of your performance per section and by question type. The PowerScore Online Student Center has a huge network of resources at your disposal. Most of your homework lives there along with supplemental drills and videos to help with concepts you encounter in each lesson. It also features homework explanations, concept-specific modules, supplemental test sections, digital practice tests, and more. It's taken years to create and assemble all this content and it evolves as time goes on. So, use it!
Ask Questions!
This is arguably your only job in class. It's potentially one of the most important things you can do throughout your studies. Asking questions shows engagement and that you're actively participating in your learning process. Years of teaching experience have shown us that students who don't ask questions improve significantly less than those who do. Don't just quietly sit in the back—virtually or in person. Outside of class, you can ask us questions 24/7 by taking advantage of our free Forum. That's right, you don't even have to be a PowerScore student to take advantage of this. If you are a student in our full-length courses, you have access to our weekly clinics. Each clinic focuses on a specific topic and provides an opportunity to ask questions.
Ready to learn more about our courses? Browse our options here or give us a call and we'll help you decide which option works best for you.