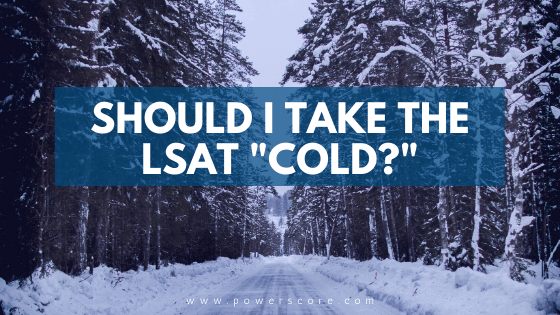 All too often we hear about students that took the LSAT "cold," meaning without studying. It's not uncommon for some students to believe they don't have to study, especially if they've proven they can test well. Another common reason students do this is to get a feel for a "real" LSAT without preparing. In both cases, the LSAT often delivers a harsh reality. You need to study for this exam to really do well. Of course, there are exceptions, however, they aren't the majority. The good news is, if you have taken the LSAT course and have since wised up, we can help. We offer a range of LSAT courses, private tutoring, self-study, and free help. After all, you can only go up from here.
If you're here because you're not convinced you need to study, here are a few things to consider. Firstly, please don't! Taking it cold is akin to walking into the final of your French class without ever opening the book, attending class, or conjuring a single French verb. Unless you're a complete and undiscovered verbal phenom, you're going to bomb. Below are some of the common reasons students take the LSAT cold, as well as our rebuttals.
"I want to get a real testing experience."
There are many ways of getting a real LSAT testing experience that don't have negative consequences! Do you really want to shell out $200 just to use up one of your 7-lifetime LSATs or potentially add a low score to your Score Report? There's a simpler (and free) solution! Take the free digital practice test using LSAC's free "Official LSAT Prep" site. If you sign up for a prep course with us, you will have access to multiple digital tests depending on which one you enroll in. Our full-length courses give you access to several dozen! Want even more? Our Testing and Analytics Package features every released LSAT in the digital format. You don't need to take an official, LSAC-administered LSAT to get a real testing experience. There's too much at stake for you to just go in and wing it for the sake of an experience.
"I got straight As in college, I don't need to prep."
Your academic performance in college doesn't necessarily correlate to your performance on the LSAT. Many straight-A student receive a sub-par LSAT score when taking the test without preparation. How can this be? Simply put, the LSAT does not test things you typically learn in college classes. It doesn't test academic subjects, legal subjects, political science, or even law. Sure, you may see passages or questions relating to these topics on the LSAT, but they aren't asking you specifically about those topics. Those references are just the vehicles for the questions. You don't study the LSAT in school, so why would you assume that doing well in your classes equate to acing it? The LSAT doesn't measure how well you know school subjects. The LSAT measures how well you know the LSAT. To know the LSAT, you need to study it.
"How hard can it be? It's just reading carefully and knowing how to diagram."
Underestimating the LSAT is the worst mistake you can make. If it were all about just reading carefully and knowing how to draw lines and arrows, then getting a 170 or above wouldn't be quite so elusive. This doesn't mean that the LSAT is going to be the hardest test you'll ever take. In fact, many law students say the tests they take in law school, or the Bar Exam, are much harder. However, this also doesn't mean that you can wing it and come out unscathed. The LSAT is a beast, and it will try to hunt you down if you're not prepared. Come with heavy ammo, and you won't have a problem. Show up with a slingshot or just your bare hands, and you may end up running for your life.
"I don't have time to prepare."
Here's what I think about this excuse. If you don't have time for the LSAT, what makes you think you have time for law school applications? The law school admissions process is grueling. It requires a lot of attention in order to put together solid self-representations! And, on the same vein, what makes you think you'll have time for law school? Anything worth doing is worth making time for. If law school is truly what you want to do, then making time for the LSAT is what you need to do. We understand that some students don't have the specific times available for a prep class. That's a fair statement. But, that's why classes aren't the only forms of preparation out there. There are books, practice tests, study groups, study plans, and even an On Demand version of our course out there to help you! Make time for what's important. We've seen that LSAT performance is directly correlated to future earnings potential. Don't mess yours up because of scheduling conflicts.
"I've heard of people that have taken the LSAT cold and gotten a [insert ideal LSAT score]."
This LSAT urban legend inevitably pops up around every test date. "My cousin knows this guy whose girlfriend went into the LSAT without opening a single book, and she got a 175 on the first try."  There are bound to be a few people out there who could pull this off. Statistically speaking, though, the odds are definitely infinitesimal. Again, if it were that easy to rock the LSAT, getting that 99th percentile score wouldn't be quite the feat it is. It may be comforting to think that you could be one of the chosen few that can thump the LSAT without a single day's prep–but why take the chance, when history proves otherwise?
Study. Prep. Learn. Kick the LSAT in the face.