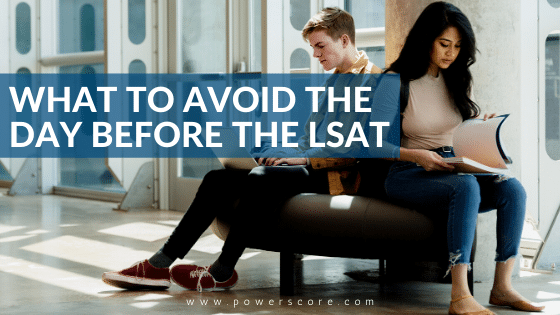 If your LSAT is swiftly approaching, ideally you're wrapping up your preparations for the test. Regardless of whether you prepared by taking a class or opted for self-study, you already know that this is not the sort of test that you can cram for. This is good news because it means that you shouldn't be planning to spend the day before the test studying!
Take the Day Off
Although it's understandable that you might want to make use of every hour leading up to the test with just a little bit more practice, you should fight this urge. Take the day off from LSAT prep! For a lot of students, this is a welcome suggestion. But for many test-takers, following this advice is surprisingly challenging. Why not take the time to go try another game or two? Maybe take a practice section?
I've even spoken with students who were considering taking an entire practice test the day before the LSAT!  The day before you should ideally be focused on rest and relaxation, and on making sure you have attended to any last-minute details. Put some thought into maintaining the proper mindset, but do not exhaust yourself the day before the test!  There are a lot of great reasons to relax —here are just a few:
Why You Should Relax
If you're still attempting to learn new approaches the day before the test, you might want to consider changing your test date. This test is not like a high school vocabulary quiz, to which short-term memory can in many cases be successfully applied. The LSAT is a test of your abilities in reading, and in logical and analytical reasoning. You can't "cram" to become a better reader or a more lucid thinker. These kinds of skills take a bit more time and effort to develop.
The skills that you've developed are unlikely to be lost in a day. Everyone wants to stay sharp for the LSAT, and fluent in the language of the test. But that doesn't require constant prep without a break. Rest and relax the day before, and you'll have more energy and focus for the test. If you want to hit the ground running, you can do so in the morning on test day: Consider doing a warm up, by going over a game or passage, or perhaps a few LR questions. That will reinforce your confidence and put you into "LSAT mode" well before you arrive at the test center.
At this point, you will (ideally) need a break from preparation. Perhaps you have spent weeks or months preparing. In that case, LSAT eve is the time to give yourself a small pat on the back and, ideally, a restful day. Regardless of what you've done up to this point though, the day before the LSAT should be used to rest up for an exam that is, after all, a pretty grueling test of endurance.
If you can get a bit of rest and relaxation the day before, you'll be much more likely to bring your best performance on test day.