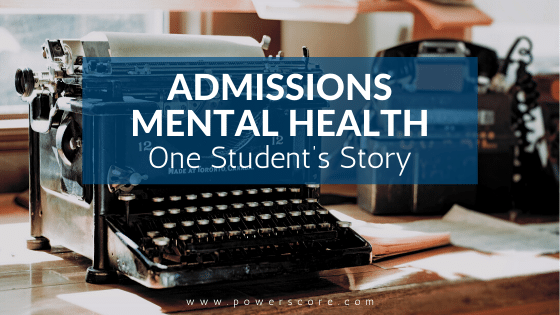 In the first part of this blog, PowerScore CEO and LSAT Bibles author Dave Killoran discussed the stresses of applying to law school. The following story is from a student applying to Top 14 law schools this cycle.
I write to you on a Wednesday afternoon. In the law school admissions world, Wednesday is typically the day when a few selected applicants are lifted from their depths of despair into the utopia that is being an admitted student. For those of us who aren't so lucky, the Wednesday silence is deafening. I find myself reminiscing of Wednesdays long ago when I was unaware of the day's significance. And so I write this for those of you who feel or have felt forgotten while watching the waves cascade upon the selected few who receive that sweet, serendipitous, Wednesday acceptance. I hope you find comfort in knowing you are not alone.
Too Much Useless Information
For quite some time, I spent hours a day doomscrolling on r/LSA looking for meaningful insights into what feels very much like a black box process. As a FGLI (first generation, low income) student, I came into this community knowing close to nothing about law school admissions, and now, as I write this, I wonder if perhaps, I know too much. And, is my newfound knowledge grounded in concrete evidence or conjecture?
These are the questions I have grappled with during these last few weeks while waiting on my law school decisions. For example, do I really need to watch in real-time as DonkeyFart – actual username on LSData– gets into Michigan? No offense to DonkeyFart, but my knowing of their acceptance timeline has little to no bearing on when or if I get accepted. Perhaps spending too much time on these forums with other angsty applicants has led me to form dubious conclusions about my own prospects.
It's a Vicious Cycle
For months, I was so deeply entrenched in this process that I failed to see how my insatiable quest for admissions knowledge was ravaging my mental health. And, when I took a step back to assess the damages inflicted by my tracking every minute detail of the admissions cycle, it was clear that I needed a clean break. During these last few weeks, I have made my mental health the top priority by doing more of what fulfills me and less of what depletes me.
For me, this looks like long bike rides, self-care, more family time, reading, and yes, deleting Reddit and LSData. I would be lying if I said there weren't times during this break that I have been tempted to peek. Ultimately, I recognize that my "peeking" will quickly turn into lurking, my lurking will quickly turn into speculating, and soon I will be left feeling depleted once again. I hope this illustrates how easy it is to let your mental and even physical wellness slip while getting caught up in the minutiae of the admissions process.
Break the Addiction
I do recognize the benefit of resources like LSN, LSData, and r/LSA. For many students, these are safe spaces to commiserate with others going through this process – particularly when your Mom no longer has the emotional bandwidth to hear another one of your admissions monologues. To others, they provide a glimpse of what goes on in those enigmatic admissions offices. For me, these tools devolved from helpful resources into toxic measuring sticks by which I compared myself to others. I would encourage you to take a step back and evaluate whether these forums enrich your mental wellness. If they do, excellent, but if not, I hope you will join me in taking a break. My break from law school admissions "shop-talk" has allowed me to reconnect with the people around me, discover a new hobby – jigsaw puzzles! – and, most importantly, to become reacquainted with my pre-law school identity.
Don't Forget: You Are Top Priority!
If you identify with some of the struggles that I have mentioned, I hope that you will, at minimum, evaluate whether or not a break is necessary. Remember that your mental health is the top priority! You must identify and potentially eliminate the things that do not contribute to your optimal wellness. The law school admissions process is an extremely stressful undertaking; it is critical that we develop healthy coping mechanisms to deal with the stress and uncertainty. Lastly, it is easy to lose yourself in this process; know that your self-worth is not defined by your acceptances.