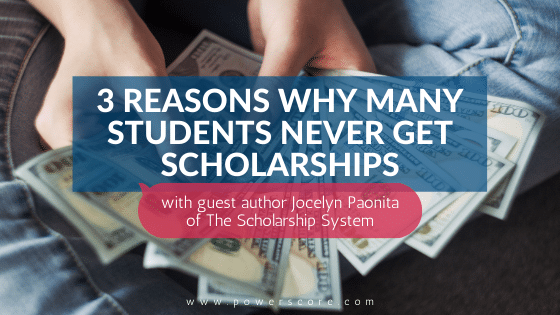 This week's post is provided by guest blogger Jocelyn Paonita, founder of The Scholarship System.
Winning scholarships is always a hot topic with students. Who doesn't want free money? Scholarships are free dollars that universities, organizations, and companies give to students to help them pay for college. While some of the money may be strictly for tuition, many external scholarships can be used for anything, including rent, groceries, books, a laptop, and more.
The issue is that students sabotage themselves before they even get started. Here's why most students never get scholarships and how to make sure it doesn't happen to you!
The "Luck" Myth
Many students think scholarship money comes down to luck, but this is not the case at all. Students who can be disciplined enough to search out legitimate scholarships and develop a strong submission are the ones who win the money. There are also tricks to streamline the process to avoid burnout and make applying faster and faster each time, such as reusing essays (if applicable). Still, it comes down to who is willing to do the work—not luck.
Only Trying to Secure One Major Scholarship
Many students try to secure only one major scholarship to cover everything. One huge scholarship to pay for everything would be wonderful! Less than 2% of students, however, secure full scholarships that cover tuition, books, fees, housing, etc. The reason is that there are limited scholarships that have huge dollar amounts and you have to compete against thousands of applicants for them.
If you think you have a good chance of winning, go for it! However, there are billions of dollars out there in the form of smaller scholarships that can add up to a free ride that covers everything. So don't sweat it if you don't win one major scholarship that will pay for everything. You can still get a free ride. Just go after the smaller dollars with less competition and work your way up to that free ride.
You Have to Be a Star to Get One
Students think they need to be the next Einstein or the leader of every club in high school to win. What I mean here is that many students (and parents) believe you have to be absolutely amazing in order to secure scholarships. Fortunately, that isn't the case—otherwise I wouldn't have won a single dollar! While good grades and SAT/ACT scores can help, there are scholarships out there for many different students. Do you like guitar? There are scholarships for that. Do you like to cook? You can find scholarships too! How about horses? One of The Scholarship System's students loves horses and she found 8 scholarships for which she was eligible.
Scholarships are not only based on GPA, test scores, and leadership. There are thousands of different scholarships out there for students with all different backgrounds, GPAs, test scores, or involvement. You just have to find them.
Scholarships Requires Effort
Earning scholarships requires that you put forth the effort; applying for the smaller, less competitive awards and finding the ones that are unique to you—whether or not you are the perfect student—will pay off for any student looking to fund their postsecondary education. If you want to learn more information about the scholarship process and how to uncover hidden scholarships, join us for our free webinar, "6 Steps To Quickly Secure Scholarships For College (And Avoid Student Loan Debt)."
Jocelyn Paonita is a recent college graduate with ZERO student loans. Not only was she able to get her entire college experience–including 6 months living abroad–paid for by scholarships, but she also received a cash check each semester for any additional expenses. Her goal in life is to share her strategies with as many high school and college students as possible so that they too can go to college for free. You can find out more about her strategies at The Scholarship System website.