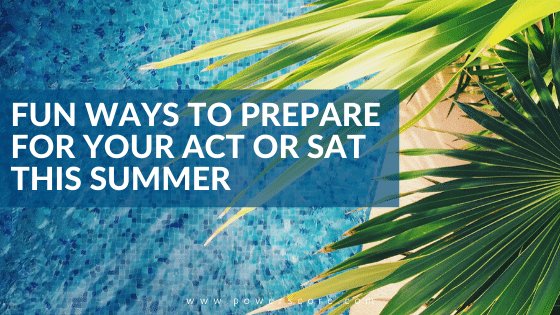 When schools across the country start to let out for summer break, the last think you want to talk about is your upcoming test, right? We understand! Vacation is an important and well-deserved break. It's okay if you need a couple of weeks to unwind, but we need to come to a compromise. Going forward we won't talk about "The Test That Must Not Be Named" directly and instead give you ways to study without "studying." What do we mean by this? These are ways for you to prepare without even realizing it.
Read!
Whether you're kicking it on the beach or your porch, bring a book along with you. Save the classic novels for the Fall and start your summer with a thrilling mystery or tragic love story. The point is to enjoy the text and practice reading for long periods of time. It's a skill that will help you on that test and in college. You can also use a paper bookmark so you can write down vocabulary words you encounter but don't know. Sounds too easy? Check out what you can learn from Harry Potter. Bestselling fiction is a lot smarter than you think.
Do a Puzzle Book
Pick up a variety puzzle book at your local drugstore on your way to the pool this summer. It's packed with fun vocabulary-building exercises and critical thinking games, which can help you improve on all of the sections on that test. Crosswords are great ways to build your vocabulary and logic puzzles help you learn to approach math questions in new ways. Eager to start? We've got some puzzles you can try in our Free Help Area.
Take up Journalling
You don't know it yet, but you are about to change. It's inevitable. Up until college, you've probably been surrounded by people from the same town with many of the same experiences and interests. College is a whole other ballpark. You'll meet new people from all over the world which will expose you to new ideas and activities. How cool to be able to look back someday at a journal of your last year in high school. It's a time capsule of who you were! Then, there's the added benefit of writing every day. This is going to give you an advantage on that test. Spend about 25 minutes a night writing about who's seeing who, the most recent summer job scandal, etc. It'll definitely give you blackmail for your 10- or 20-year class reunion, but it also prepares you for the time requirements of… that test.
Watch a Classic Book to Movie Adaptation
We are big believers in entering that test with essay ammunition. What is that, you ask? We're talking pre-planned examples you can adapt to almost every essay. For example, The Great Gatsby provides endless fodder for essay questions. Gatsby himself works as an example for questions about success, motivation, individuality, happiness, culture, compromise, and many others. You can also analyze support characters! Daisy is a shoe-in for self-esteem and honesty. Tom reeks of arrogance, racism, and jealousy. Nick is a prime example of tolerance and open-mindedness. What's great is that you don't have to spend your summer reading a classic when there are awesome movie adaptations out there. Both Leonardo DiCaprio (2013) and Robert Redford (1974) make dashing Gatsbys and provide intelligent examples you can use for killer essays. If you prefer Netflix, check out this list from our instructors. It includes the OG classic as well as their movie counterparts. 
These are some of the secrets to painless summer prep for… that test that we shall not name. If only we could get your Calculus teacher do think along the same lines this fall.