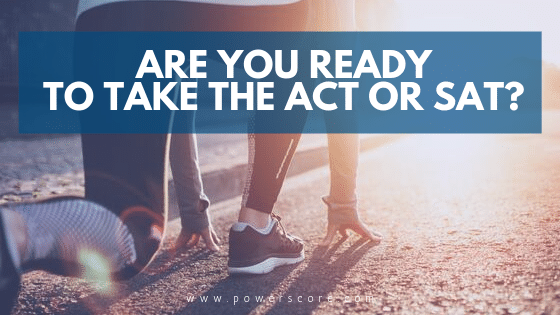 So, you've been preparing to take the SAT and/or the ACT. You've answered the SAT Question of the day for months. There's nothing left in The Official SAT Study Guide that you didn't memorize. But, are you ready to take the test? How do you know?
Practice Tests
The ACT and SAT are standardized tests, so your score on one official version should be very similar to your score on another. The best way to determine if you are ready for an official administration is to compute your scores on a timed practice test. Do these scores meet your goals? Are they similar to or higher than what your prospective college requires? If so, you are ready for the real ACT or SAT. Most students can expect their official scores to be slightly lower than their practice scores, given the pressure and unfamiliar testing conditions that exist with the real deal. But, the difference is not usually large enough to warrant much concern.
If your scores are not in your target range, you need to study more. The official test is no time for a practice test! Too many students take the test "just to see how I do," and these scores stay with them forever. Most schools request that all scores be sent with the application, so even though ACT and the College Board offer to send scores from only a single administration, you may not have a chance to utilize these services. Only take a real college admissions test when you feel completely prepared.
If you've taken all of the practice tests in the Real ACT Prep Guide and Official SAT Study Guide, additional free ACTs and SATs are available online.
Confidence
Before taking the ACT or SAT, assess your confidence level. How do you feel about your preparation? Are you afraid or simply anxious? A student who is well-prepared may have butterflies, but they feel like they are ready to tackle the test. If you study and learn the secrets of the ACT and SAT, you will know exactly what the test entails and what kind of questions you will encounter.
To increase your confidence, you must familiarize yourself with the test. The best way to study is different for each student, though. Some independent learners do well just using the official guides and taking practice tests on their own. Others need an additional, more in-depth book that breaks down the test patterns for them to help as they work through the practice tests in the blue book. Still, others need more structure in a classroom environment, where test experts guide them through the patterns and the tests in the blue book. Only you can determine which method is best for you.
So if your practice test scores are in or near your target range and if you feel assured in your knowledge of the ACT or SAT, hesitate no more. It's time to take the test.