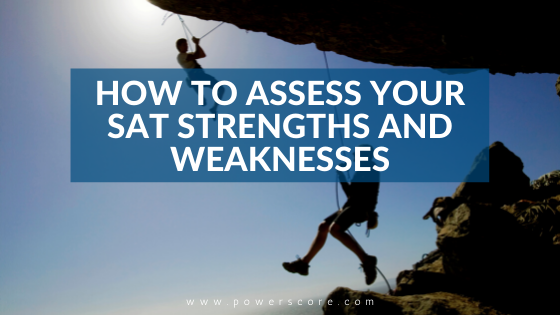 I'm not perfect. Don't tell my mom or my kids that, but it's true. I have flaws, I make mistakes. I even make mistakes at work (let's keep my boss out of this conversation, too). One work mistake I have made in the past is in assuming that my students understand how to evaluate themselves. When I first meet with a tutoring student who hasn't submitted a practice test, I'll ask "What are your weaknesses on the SAT?" They answer something general, such as "Math," because their grades haven't met their expectations or simply because they don't like it. But it doesn't answer my question.
So I probe further: "What are your weaknesses in math?"
"Geometry?" they answer/ask, as if they're hoping that I—a perfect stranger at that point—will agree with them.
Even further: "What do you struggle with in Geometry?" I'm hoping for specifics, such as "triangles" or "proofs" or "volumes of cylinders."
But the answer is always the same. "All of it." And at one point in time, I took those students at their word. We forged on, covering every aspect of Geometry, even though they might have been rectangle rock stars or volume virtuosos. We wasted valuable time covering concepts they had already mastered.
Don't Make This Mistake
It was my mistake to assume that my students understood how to pinpoint their strengths and weaknesses. I think that we tutors sometimes get caught up in applying our own experiences to our students. This SAT stuff either comes naturally to us or is learned easily by us. If it comes naturally, tutors never experience the learning process, so many have a hard time understanding how to learn and thus how to teach. And if we are natural learners, then we innately know how to study and how to evaluate our skill set, so we assume everyone else knows, too.
I fall into this second category. The SAT was a massive undertaking for me (relearning functions was downright painful in the beginning). I had to work hard to raise my score, but I was methodical in my learning process. I analyzed every question on practice tests and categorized my missed questions by concept, so that I could create a visual map of my weaknesses. This not only helped me self-evaluate my abilities, but it opened up new knowledge about the test. After diagramming 7 or 8 tests, I could see that cylinders were tested for volume or for hidden triangles and that who and whom had never been a true error on any of the tests.
Skills Assessment Tool
I realized that many of you do not know how to self-assess, so I decided to recreate the spreadsheet I used when I studied the SAT all those years ago. The PowerScore Skills Assessment is a diagnostic tool that will help you track your wrong answers, grouping them by content and, in some cases, by error type. In the end, you'll have a visual map of your weaknesses, and if you map your right answers, you can see your strengths, too. This information is not only valuable to your tutor, but also to you. Once you realize that you struggle with questions about Number Properties or Subject Verb Agreement, you can more efficiently tailor your study program. And be careful—you just might learn something about the SAT as you catalog all those questions.
If you have any questions, comment below. I am anxious to hear your feedback.