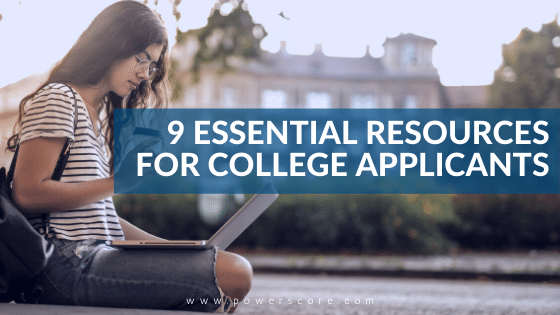 Whether you're currently applying to college, or are just starting to think about the process, having resources available is something that all students can benefit from. I know that I constantly rely on information and guidance from multiple sources (both online and off) to help me as I counsel students–and, often, the information I get from these sources is incredibly useful.
So, without further ado, here is my list of the nine most important resources you should keep by your side as you embark on your college applications.
ACT & SAT
ACTstudent.org. If you plan to take the ACT, this is where you need to go. This is the hub for the test and the company that administers it. They also provide a college search, financial planning, and career planning resources.
CollegeBoard. They have everything you need to know about the SAT. It also has an awesome (and free!) College Search function and additional resources pertaining to paying for college and career planning.
Applications & Financial Aid
Common App. Nearly 900 college and universities use Common App. It only makes sense for you to become incredibly familiar with not only the application, but the resources and tools available on this website! They provide information on planning for, applying to, and transferring to colleges. Don't sleep on this resource!
StudentAid.gov. This is the federal government's one-stop shop for all things federal student aid. It includes information about financial aid works, finding out if you're eligible, and so much more. The free FAFSA4caster is a great tool that gives you a free estimate of your eligibility for federal student aid. You're able to use this website to officially request financial aid as well. To do that, you will need to complete a FAFSA form. Familiarize yourself with the forms, requirements, and anything else pertaining to your situation. They also feature a College Navigator, which is the U.S. Department of Education's college search website.
College Confidential. Yet another great resource for finding a college, applying to and paying for college, as well as college life. It features a very active discussion board, too. You can post questions and get answers from students, parents, and professionals who have either been through the application process or work helping to guide students through the process.
Scholarships
FastWeb. They have a truckload of scholarship listings for everything under the sun. Even if you're stock full of scholarship (congratulations), this website also has listings for part-time jobs, internships, student deals, and more. Make it your first stop when looking for financial aid and stability outside of what your college is providing.
Scholarships.com. Very similar to FastWeb, they're a wealth of available scholarship opportunities, but with a twist. Here colleges also recruit you as you find schools and search for money. They boast over 3.7 million college scholarships and grants worth about $19 billion in financial aid. What are you waiting for? Searching is free.
Goodcall.com. This is the last scholarship hub we'll mention. They make finding a scholarship that fits you easy. You can also find a moving guide on their website, which prepares you for relocating to the college of your choice.
U.S. Deptartment of Education
ED.gov is an all around good source of information that your parents will find useful. Make sure to point it out to your folks as they help you with the college search and application process! They touch on student loans, grants, laws, and data on everything education-related.
There are others, but these are some go-tos. Of course, don't forget this blog and the PowerScore Free Help Area!