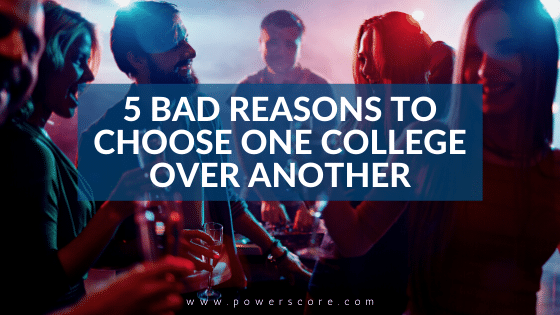 It's almost here! That wondrous time when you start getting acceptance letters and congratulatory emails from colleges, and you finally get to pick where you want to go to college. It's exhilarating! And it needs to be something you take seriously, lest you end up choosing a school for all the wrong reasons. If you're trying to choose between schools, make sure you're not using these as your deciding factor for one college over another.
Better Party Scene
The importance of social aspect of a college or university cannot be overstated. It's essential for you to have access to plentiful activities and recreations! Your student body needs to be involved and foster your ability to make friends. However, if your deciding factor for choosing a school is their rank as a top party school in the nation, you may want to rethink your reasons… and your priorities. Remember, you're going to college to learn, expand your horizons, and create lifelong friends. Your goal is not to master a keg stand. Focus on what a school offers in terms of academics and extracurriculars. Let the party life be a side benefit that you enjoy but don't make essential.
Your Favorite [Insert Idol] Teaches There
Being on the same campus as your personal idol/hero is pretty awesome. Having the opportunity to take a class they teach is also really cool, especially if you're able to work on a project with them. However, don't make this the deciding (or only) factor you consider. A school needs to be the perfect fit for you. Do they provide the academics, extracurriculars, opportunities, finaces, and living arrangements? Hinging a huge decision on the presence of a single person isn't very sound. Consider having your hero/idol there a nice side benefit, but one that you only consider after all of your other criteria have been met.
You Want to Live in That City
Location is important. But, it's not important enough for you to let other items be secondary. Just like with having your hero/idol right on campus, consider the school's location to be a nice side benefit, but not what drives your decision.
Farthest Away from Your Parents
We get it. Part of the excitement of going off to college is getting to live your own life. No parent-enforced curfews, no parental rules, no parent-driven schedule. But if you're choosing to go to a school in California just because you want to get as far away from your East Coast parents as possible, stop and rethink your reasons. Starting your own life and heading off to college is a great thing, but it should be a time for happiness and excitement that you enjoy without having to run away from your parents.
Cheapest Option
Paying for college is a huge consideration, and it should factor heavily into your decision. Nonetheless, it should not be the only thing you decide. Remember, cost isn't everything (and, very often, you get what you pay for). Before signing on the dotted line just because it's the one with the most attractive price tag, make sure all of your other needs are met.