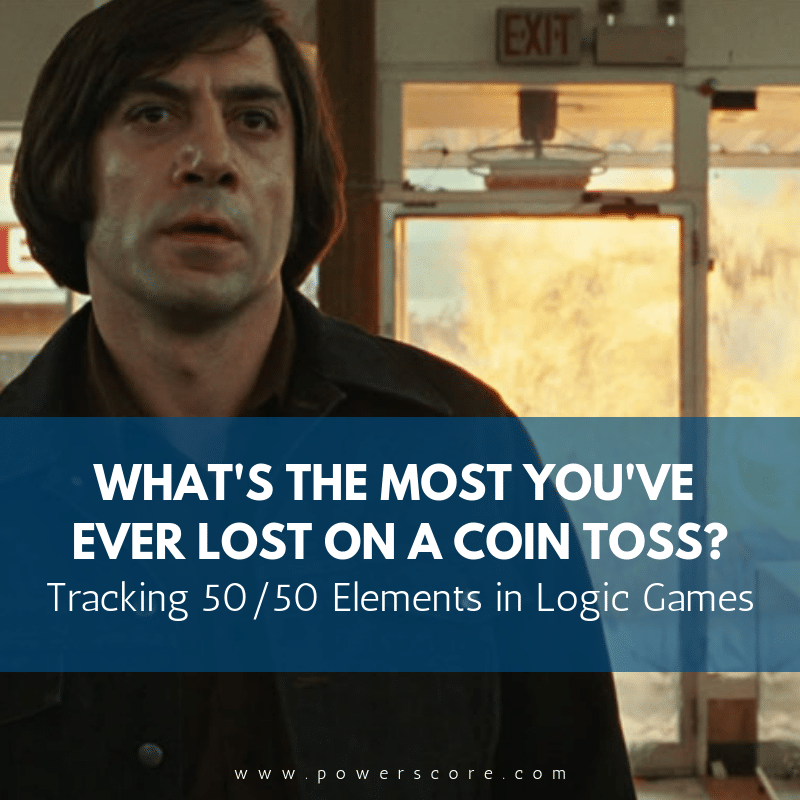 For some students, the mere thought of a logic game is as terrifying as the anthropomorphic creeping death presented by Anton Chigurh in the Coen Brothers' classic film, No Country For Old Men. Javier Bardem brings Cormac McCarthy's world-class literary villain to life. In my mind, the best scene of the whole movie involves a coin toss.
Despite how it can sometimes feel, a logic game is never quite as scary as that particular coin toss. The LSAT is of course a massively important element in achieving your law school dreams. But, even the most nightmarish logic game is not literally life or death. However, many of the most difficult logic games can best be attacked with a method that I call: A Coin Toss With Consequences.
Identifying a 50/50 Situation
Whether it be in creating templates to exhaustively cover the game's opening possibilities, or quickly deciphering the appropriate variability to answer a particular Local question within a game. It's always important to keep an eye out for a variable or situation with only two alternative options. When presented with a situation that offers only two possibilities, and that 50/50 split affects more than just that variable. The best course of action is often to play them both out!
A Coin Toss With Consequences doesn't mean that every single 50/50 option must have both possibilities drawn out. Rather, we should be looking for a situation within a game where the 50/50 option has the power of creating ripple effects throughout other variables that are directly affected by the outcome of our coin toss situation. For example, if in a linear game we have deduced that the first and last positions need to be shared by the same two players, that presents a 50/50 situation.
This is often represented as such:

Factor in Other Variables
That being said, if no other players are affected by whether it's A or B that begins or ends the game, it wouldn't be worth our time to draw out two versions individually (separate A in 1 and B in 1 diagrams), and the situation is best left as dual-options in a single setup. What if even one other variable was affected by whether A or B came first? Then, that 50/50, or coin toss, would begin to have consequences. As a result, it creates two hypotheticals for both A and B in first place becomes far more compelling.
For a test-specific example, take a look at the combination game from June 2003 (PT40; explanations here). This example is offered as part of the PowerScore Course in Lesson Seven. This is a complex game that involves both Linear and Grouping game elements and often stumps students. By using a Coin Toss With Consequences mindset, we can open up two templates which severely reduce the game's difficulty.
Rule two in that game tells us that either F or G ranks first. That's an obvious 50/50, of course. But again, if it had no other impact on the game we could show it as a dual-option in 1:

Once we've considered rules four and five, that 50/50 comes to impact more than just which players go first! When taking the contrapositives into account, we see that F in1 kicks out K from the rankings, and with G in 1, H is not allowed to be selected. We then learn that H out leads to M getting booted, which means the other five players are forced in! These repercussions leave this as a perfect Coin Toss With Consequences illustration, as the entire game exists as a product of only these two starting points:
Template 1:

Template 2:

Sometimes the variability of an LSAT logic game can feel as wide open as the desolate, desert landscape in No Country for Old Men, but with an understanding of a Coin Toss With Consequences you can often dramatically shrink the number of workable possibilities and make your life a heck of a lot easier. Be sure to keep your eyes open for any Coin Toss With Consequences, and also for creepy guys with Lego haircuts and cattle prods who want you to choose heads or tails…
Additional Problems Featuring Coin Toss Scenarios
Some other examples of games in the PowerScore Course with this feature include (but are definitely not limited to):
Lesson 3:
Game 2 (either Q or T in fourth)
Game 4 (Patrick is either in second of fifth)
Lesson 4:
Game 3 (either Taylor or Ramon & Sue graduate in 1993)
Lesson 5:
Game 2 (the letter can only go to Rini or Jana)
Game 5 (the Farsi novel is only on the middle or bottom shelf)
Lesson 9:
Game 1 (the Grace/Steve block can only fit in two places)
Game 3 (the assignment can only be 2 or appetizers and 5 for main dish, or 3 for apps and 4 for main dish)
Lesson 11:
Game 2 (the LL block can only be on Mon/Tues or Tues/Wed