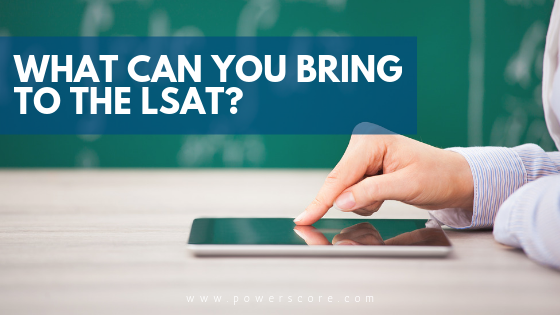 LSAC has very specific rules and regulations about what you can (and can't) bring on LSAT Day. Read below to see what's allowed and what's not. The following lists what you must (and should, and can't) bring to the testing center.
What You Are Required to Bring to LSAT Day
LSAT Admission Ticket. Print it the night before to make sure you have the most recent test center information on it. Sometimes testing centers change at the last minute! Make sure you have the most recent address so that you go to the right place on Test Day. Make sure the photo on your ticket meets their requirements!
Identification. You will need at least one form of ID on test day. You must have a current, valid (not expired) government-issued ID containing a recent and recognizable photo and your signature.Your first and last name on your ID must match exactly the name on your LSAT Admission Ticket or you will likely be denied admission to the test. Acceptable forms of ID include a passport, driver's license and/or government issued ID card. US military personnel may present their US military ID card with name, photo, and signature.

The following IDs are NOT accepted by LSAC as valid forms of identification: Social Security Card, Social Insurance Card, birth certificate, credit card (including those with photo), ID expired more than 90 days prior to the test date, photocopied ID, employee ID (even for government employees), or student ID. Make sure you have the correct forms with you! If you do not have acceptable forms of ID when you check in, you cannot take the LSAT!
Pencils!  That's right, LSAC won't give you anything to physically write with, so you need to bring some sharpened #2 or HB wooden pencils with you.
What You Should Take with You
In addition to your ID and admissions ticket, you can also bring the following to the test center (as per LSAC): A clear plastic ziplock bag, maximum size one gallon (3.79 liter), which must be stored under the chair and may be accessed only during the break.
The ziplock bag may contain only the following items: valid ID; wallet; keys; analog (non-digital) wristwatch; medical or feminine hygiene products; #2 or HB wooden pencils, highlighter, erasers, pencil sharpener (no mechanical pencils); tissues; and beverage in plastic container or juice box (20 oz./591 ml maximum size) and snack for break only.
You cannot bring anything else to the LSAT Testing Center! You can be dismissed from the test center from bringing in any prohibited items (see below).
The Prohibited Items
LSAC specifically states that you cannot bring any of the following into the test center: Electronic timers of any kind, beeping watches, alarm watches, calculator watches, cellular phones, beepers, pagers, personal digital assistants (PDAs), hats/hoods (except items of religious apparel), books, dictionaries, papers of any kind, calculators, rulers, slide rules, compasses, mechanical pencils, briefcases, handbags, backpacks, earplugs, headsets, photographic or recording devices, listening devices, electronic devices of any kind, weapons, or firearms.
The prohibited items that seem to trip up students the most are the following:
Any Kind of Timers. Yes, that includes silent timers. The only way you can tell time during the test is an analog watch, the clock in the testing room, and the timer display on the tablet.
Cell Phones. No, you can't bring your cell phone into the testing center. Leave it in the car or at home.
Hats or Hoods. Particularly important to remember during the winter, when everyone wears hats. Brave the cold on the walk from your car to the testing room, and leave the hat in the car.
Mechanical Pencils, Pens, or Markers. That's right, you have to use a good ol' #2 for the test. Remember to bring a sharpener and multiple pre-sharpened pencils.
Bags Other Than the Ziplock. This includes purses, bookbags, briefcases, etc. The only bag you can have is the clear plastic ziplock bag. Leave everything else in the car.
Earplugs. A surprising number of students take practice tests with them. You cannot have them in the testing center, so don't get in the habit of using them when you practice.
Any Electronic Device. This includes cell phones, tablets (other than the one they give you), fitness-tracking devices, beepers, pagers, electronic cigarettes, headsets, calculators, and pretty much anything with a battery (except for an analog watch). Leave it all in the car.
Non-analog Watches. That includes digital watches (i.e., watches that display the time in numerical digits), alarm watches, beeping watches, calculator watches, chronograph watches (digital or nondigital), or any watch with a dedicated start/stop function that isn't related to setting the time
You can get kicked out of the testing center for having any prohibited item. Pack what you need to bring to your LSAT the night before and double check with the list of approved and prohibited items on LSAC.org to make sure you have all of what you need (and none of what you don't).