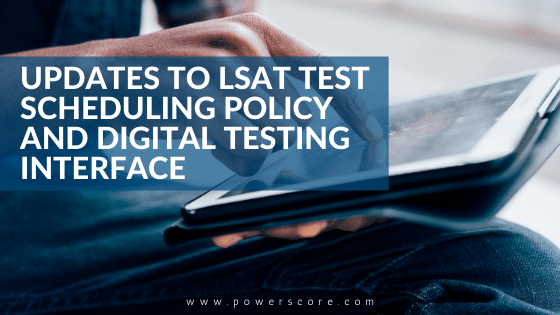 LSAC recently announced two updates set to take effect with the April 2021 LSAT-Flex, the first regarding the test day/date selection timeframe, and the second concerning their digital testing interface.
The more critical of these two announcements is that test takers must now schedule their testing day and time by 11:59 pm EST of the Thursday prior to their exam. So for those planning to sit for this upcoming April LSAT beginning on April 10th, day and time selection will close at 11:59 pm EST on Thursday, April 8th. That still allows a full week from the opening of the time selection window to the deadline, but it is important to note that after the cut off you will only be able to request a date change to a future LSAT, not select a time to take the current one.
The other update can be seen in LSAC's digital testing interface, where they have changed the icon denoting answer choice elimination (shown to the right of each answer's text and used to cross out individual answer choices) from a letter-bubble with a slash through it to that of a clickable eye, presumably representing "show/hide." It functions identically to the former icon—when selected, the answer choice bubble is crossed out and the text fades to grey—but should reduce some confusion about precisely what to click when selecting an answer as correct. Per LSAC, with the old imagery some students were mistakenly selecting the answer elimination icon to indicate the correct answer; with this new elimination icon there is only one set of answer letters to choose from, and thus the only one (correct) place to click when selecting answers. If you'd like to see the new elimination icon for yourself, all tests on LSAC's LawHub platform have been updated to incorporate it.