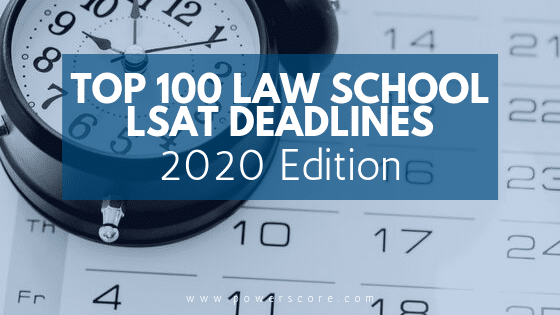 The LSAT you take—or retake—can have a great impact on your admission chances. Some of you may be asking, "Is the January LSAT too late? Are the February or March LSATs too late?" We survey top law schools yearly with those exact questions to find out admissions deadlines and the latest LSAT each school will accept.
This year, it seems that the trend is moving toward a January LSAT deadline for many of the top schools. But, as you'll see in the chart below, the February and March LSATs are definitely viable options for test-takers. And, a quarter of the schools still allow for a June or July test result. However, they admit that they will not review your application until scores are in. Because of this, spots are limited or may not even exist at that time. If you need help with any part of your application, we've got expert admissions consultants you can work with!
Categories We Use
Rank: The rank for each school was drawn from the US News & World Report Best Law Schools 2019 rankings. We listed schools in numerical order by rank.
School Name: This one is obvious

—

this column identifies the name of the school! For this post, we stick to the top 100.
Application Deadline: The deadline is the date after which the school will not consider or review newly received applications. Having said that, several schools mentioned that the number of unfilled spaces affected how they view their "deadline" date. If they still have spaces available in their classes, they might accept applications after the deadline. The law schools we surveyed said chances of admissions are lowered once the deadline passes. Though unlikely, this certainly makes the deadline less concrete.
Latest Acceptable Test Date: For some schools, this is a "strongly recommended". Schools that accept the June or July LSAT have been

highlighted

. To clarify, these schools will accept this test as the first and only LSAT you've taken.
Notes: To compile this list, we visited the schools' website and called every single admissions office on this list. In some cases, the admissions folks had additional thoughts or considerations about the deadline or use of the June or July LSAT, and we added those thoughts in this column.
Let's take a look at the list! If you have any questions or comments, please post below. If you plan to apply to any of these schools, it's always a good idea to contact them directly to ask about their deadlines.