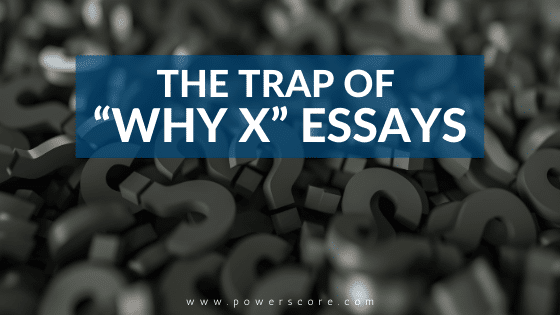 Many law schools allow you to submit an extra, optional essay that addresses why you would like to attend that school. For example, Duke Law School allows applicants to include the following: "You may submit an essay providing additional information about why you have chosen to apply to law school in general and Duke in particular. We are interested in the factors that have prompted your interest in a legal career and the ways in which you think Duke can further that interest." These essays are typically called "Why X" essays. In general, writing extra essays is a good thing because it gives the admissions committee more perspective on you, and lends more depth to your application. However, they can be a trap.
If More is Good, How Can This Be Bad?
While in general it is advisable to write these essays, what you write and how you write them are critically important. Obviously, if you aren't a skilled writer, the more essays you submit then that may become clear. And that's a bad thing! So, if you aren't a great writer, think twice about submitting more essays.
However, let's assume you are a great writer. Then everything is good, right? No. There can also be danger if you submit a poorly thought-out essay. Because while most Why X essays won't get you into a law school, if you fall into this trap, they can keep you out.
The Trap
The trap here is simple: many people don't have a particularly good reason for wanting to attend a school, and so they manufacture a reason. Granted, at first glance these manufactured essays might look good, but they tend to fall into well-worn themes that actually have no substance. These themes include:
I want to go to your school because it has a great ranking or well-known reputation (yes, they know this already)
…it has a great location (no kidding, we've seen these before)
…because of the great ______ law program (fill in the blank with Environmental/IP/Tax/Public Interest/etc)
…because of your great professors, or because of Professor Y (yes, they know this already).
Now, before simply stating that every essay that uses one of the approaches above is automatically bad, let me say that there are exceptions! For example, consider a person who has a tech background and wants to go into Intellectual Property (IP) law. If a school has a specialty in IP (such as NYU or GW) or proximity to tech regions (such as Berkeley or Stanford), there would be a reasonable argument for the person to make about wanting to attend those schools (caveat: you can bet those schools get these types of essays regularly, so you better stand out). In other words, having a viable reason that overlaps with one of the themes above will in fact produce a solid base for a Why X essay.
Research Isn't Really Your Friend
So how do people fall into the trap? Barring a compelling connection to any of the above reasons or the school itself, what happens for most people is they go to the school's website and begin surfing for something they can use for an essay. They look at the programs offered by the school, the clinics, the journals, the professors even, and look for something they find interesting. Oh, there's a clinic on environment law, as well as an environmental law journal—let's use that as the basis for our Why X since that's always been an interest of mine! From there, they craft an essay built around talking about how good those programs are and how this has been something they've always wanted to study.
Two problems there: first, the school already knows what it offers and many people just regurgitate what's on the website so that it has no impact; and second, often these applicants have nothing in their history that shows any type of environmental law interest (note: if you do, then ignore this part—it's not a trap for you). Essays like this come in constantly, and what they reveal about the candidate is profound: they really don't have a particularly good reason to go to this school. At this point, the Why X is no longer a positive, it's at best neutral and quite possibly a negative.
Have Real Reasons
One question I routinely ask applicants is: Tell me why you want to go to each school on your list. And I advise them I don't want to hear the words "rankings," "prestige" or "reputation." If an applicant can succinctly state an interest in the school that is beyond the usual rankings/prestige complex, then we have the basis for a strong Why X essay. But if I hear them reaching or just staying silent, then I advise them to walk carefully because the Why X can be a minefield if not executed at a high level.
Questions, comments, or want to run your Why X idea by us? Please post below!