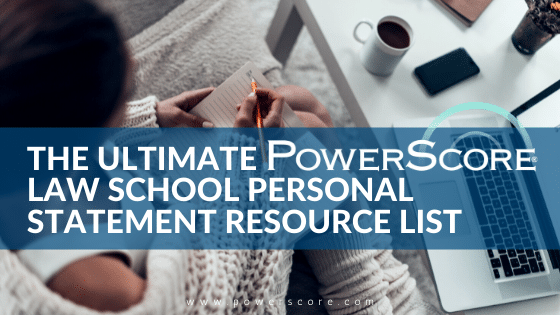 In the midst of the application season, one of the most common questions we receive is about crafting personal statements. Over the years, we've assembled an impressive array of free resources for students. If you're still struggling with finalizing your statement, you may find that one of the following tools helps you put everything in place. These tools cover everything from how to select a topic to avoiding common writing pitfalls. Let's take a look at what we have.
Personal Statement Seminar

I've been working with students on personal statements for over 20 years, and I use that experience to talk about how the admissions committee views your personal statement, what they are looking for in your essay, and, perhaps most importantly, how to avoid the common mistakes that so many essays include. To help drive the ideas home, I pulled segments from essays I've seen in the past—some that were wildly successful and others that regrettably pushed the application onto the law school scrap heap. Watch the archived recording of this 1.5 hour seminar here.
You might also enjoy the Secrets of the Law School Admissions Process Webinar. In this webinar I cover the major application elements – including personal statements, GPA, recommendations, and more – and give clarity on how to make each aspect shine as bright as possible.
Some Key Blogs
Here are some of the best posts about writing your personal statement:
Podcasts
We also speak on this topic in our Podcast! Tune in for updates in the LSAT and Law School Admissions world.
Our Personal Statement Blog Series

A few years ago, our former head of admissions put together a blog series on various aspects of creating a strong personal statement. Her advice is still spot on.
The Admissions Free Help Area

As part of our regular LSAT Free Help Area, we devote an entire sub-section to free law school Admissions resources. Our free LSAT and law school areas are the most comprehensive on the web, and there is a wealth of information to assist you with your application. Of particular note is our Law School Admissions Guide: Creating a Killer Application, which contains advice from selected admissions experts. There's no doubt that the advice in here can help you create a better essay and a better application.
Law School Admissions Consulting Programs

Of course, sometimes even the best free resources and all the time you can muster won't quite turn your essay into a diamond. If you've tried everything and still feel dissatisfied, turn to one of our experts for professional help and consider one of our consulting programs. These programs allow you to work one-on-one with an admissions expert who can help you forge the best possible essay and application.
Recorded Discussions of the Law School Essay

Over on the PowerScore YouTube and Vimeo channels, we serve up a 9-part series on the law school admissions process. Part 6 of that series details the personal statement, and it's a good introduction to where the statement fits inside your entire application.
If you have a question about the personal statement, please feel free to ask me about it in the comments section below, or post it over on our Forum.