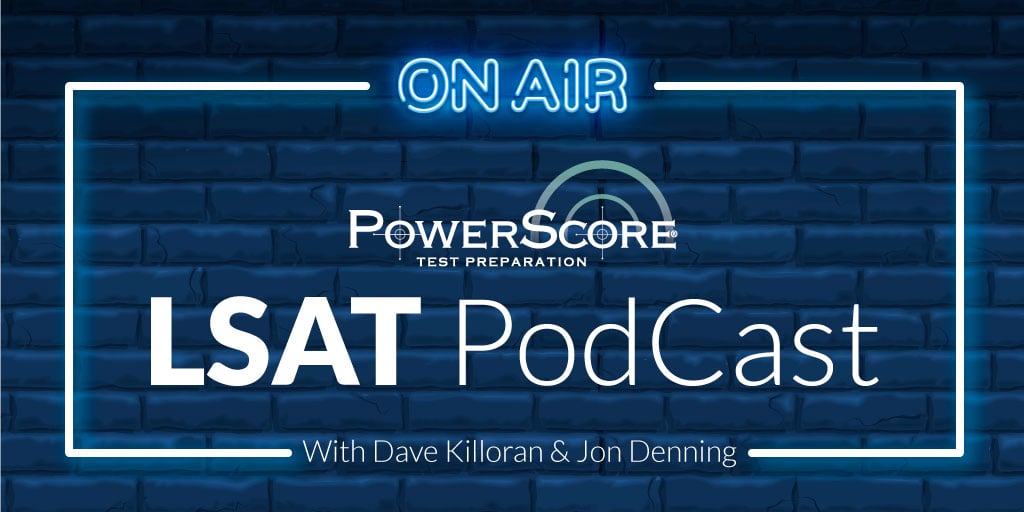 Continuing the retake discussion from Episode 2, Dave and Jon now explore study habits and techniques to help ensure your next attempt is the one that gets it done! They break it all down–from proper mindset (including time off) to identifying and tracking specific strengths and weaknesses to the ideal practice test approach. There's also an in-depth look at Blind Review and tips for using an incredibly powerful learning tool,"The Teaching Test."
You can find the episode embedded below, but make sure to subscribe/follow and rate/review on Apple Podcasts, Spotify, or YouTube!
Timestamps
0:00 – Intro. As has become tradition, Dave and Jon talk evening drinks and their song choice for the episode. All of which are classics! If you want to give that song a listen (or three), and we can't imagine who wouldn't, here you go.
2:48 – Scores are coming! The LSAT score release process is outlined so you know exactly what to expect on that fateful day, and then—particularly relevant to the discussion that follows—there's talk of how and when to register for the next test.
6:09 – On a more mundane note, a few quick thoughts on LSAC's blog, Law:Fully, and some of its recent topics, and then a less-than-positive take on their newly-formed webinar series.
Retaking the LSAT
8:48 – Dave sets up the main theme of this episode's focus: retaking the LSAT. He also references a great blog article that touches on (and at times is the basis of) a number of the talking points to be explored.
9:58 – Jon begins the retake talk by focusing on mindset. If your head's not in the right place, you must make adjustments so your next stages of prep start positively. They give tips on staying upbeat, bringing encouraging prior outcomes along with you, and not letting past struggles continue to weigh you down.
14:03 – A somewhat counterintuitive examination of how and why taking breaks—short and long—from the LSAT shouldn't worry you, and in fact often leads to improvement. Good news for those who haven't done much/any prep since their last test date!
Forming a Study Plan
17:40 – The discussion turns to how to create an appropriate study schedule. Key ideas include:
Organizing (and possibly obtaining more) study materials
How many tests is the "right amount"
The notion of quality over quantity when it comes to prioritizing your efforts and your time
The usefulness of older LSATs
Ways to find tons of value in old material, even if you exhaust everything that's out there. More on that last point here.
The PowerScore Self Study Site is also mentioned as a great place to get free, pre-made, fully-adaptable study plans built around the time remaining until your next attempt. Use them!
31:57 – With your study schedule and prep materials in place, Dave and Jon gives you next-step advice. Specifically:
How to identify and prioritize your unique strengths and weaknesses
How and why you should keep a performance log to track them
The necessity of being as specific as possible when doing so.
Dave's blog article from earlier is mentioned once again, as is the Self Study Site: there are performance tracker sheets built into each study plan.
41:13 – Now we move from knowing your personal weaknesses to actively working to fix them. This section concerns the practice portion of the cycle of (1) practice, (2) review, (3) identify…repeat. Full tests are the focus in this segment. But, there's also a discussion of why more targeted practice might be the better move.
Dave also mentions the often unnerving idea of The LSAT Casino.
Practice Tests & the Teaching Test
49:45 – Dave and Jon cover post-practice review techniques (plural), each with an aim towards getting the maximum amount of information from every bit of work. There's an emphasis here on Blind Review, as well as some perilous oversights and omissions many students make when evaluating the content they've attempted. This serves to complete the loop, where now you're ready to re-identify.
Two interesting sidebars in this segment: The first is on world-class climber Alex Honnold and his remarkable achievements (a great read). The second is about trusting your training and your instincts as you test. This is true both as answers appeal to you as correct, and repel you intuitively as wrong, and how those ideas are particularly critical to students facing a retake.
1:01:25 – Dave and Jon conclude by outlining one of their favorite methods for determining just how well you truly understand the content you've seen: The Teaching Test. They talk about how to apply it and what it will tell you. Once applied and evaluated, you've essentially completed the loop, where now you're truly ready to re-identify your problem areas and dive back in to more targeted test material. As Jon says, "keep climbing the mountain!"
If you have any questions or want to submit any topics for discussion, reach out at any time via email (lsatpodcast@powerscore.com) or phone (800-545-1750)! We're always happy to help!