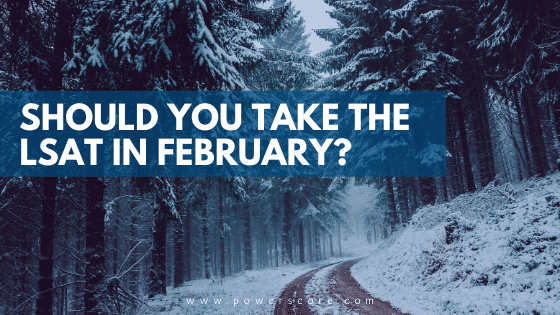 Taking the LSAT in February isn't necessarily ideal. It's in the dead of winter and East Coast testing centers regularly close for snow! To add insult to injury, LSAC keeps the questions secret even after the fact. The cherry on top? You're cutting it close with the admissions deadlines for most law schools. But, just because it's often a "last resort" doesn't make it a terrible option. On the contrary! The February test may be your last and best chance to get the score you need and still apply for admission in the Fall.
Admittedly, this is somewhat self-serving advice. We offer full length In Person and Live Online courses year-round for a reason! But it's also a perfect opportunity for you to purchase some tutoring or follow our Self-Study Plans. Nevertheless, even if you don't spend another second on test prep with us, you should consider the February test to be a viable option if you believe there is any room for improvement. Still not convinced? Here are some reasons to give it a second look.
On Your Terms
As a general rule, it's almost always advisable to take the LSAT once you're consistently scoring in a range with which you are happy with. Law school admission is incredibly competitive, so you need to give yourself the best possible chance of attending the best possible school. This, of course, means that you need to aim for the highest possible score on the LSAT. If that means waiting until February to take the test, then for most people that's the right decision.
It's a "Hail Mary"
This may be your last chance to get the score you need. If you've been waitlisted, a significantly higher score in February than in December (4+ points higher) can drastically improve your chances of admission. Even if you don't know your impending waitlist status at the time you decide to take the February test, merely suspecting that you could be waitlisted can prove to be a sufficiently strong motivator. For many students who cannot wait another year to apply to law school, February is the last chance to obtain the score they need and have it ready for the admissions committee to review it in the nick of time. A June score does not come out until July, which is way too late for the vast majority of schools. And, yes, some people do get off the waitlist in August, but this is uncommon.
It's Not Too Late!
For some lower-ranked schools, a February score is not too late. They are perfectly happy to consider it, given the less competitive nature of their admission cycles. Every school is a little different! Some schools won't accept February scores for admission that calendar year, some schools accept it but penalize you in their rolling admissions process, and some accept it without penalty. If you're considering February, your best bet is to do some research and potentially contact schools directly and ask.
Pre-Test Study Time
It's also perfectly timed for winter break. Unlike the June or the December administrations, which tend to coincide with the end-of-semester finals at many colleges and universities, a February test is unlikely to compete for your attention with schoolwork. Many students take the opportunity to study during Winter Recess between their Fall and Spring semesters, which usually lasts from Christmas until late January. And, if you do end up taking a prep course, you'll be thrilled with the size of your class. It will probably feel like group tutoring, at a fraction of the cost!
January is a miserable month anyway. You may as well buckle up and give this LSAT thing another shot.