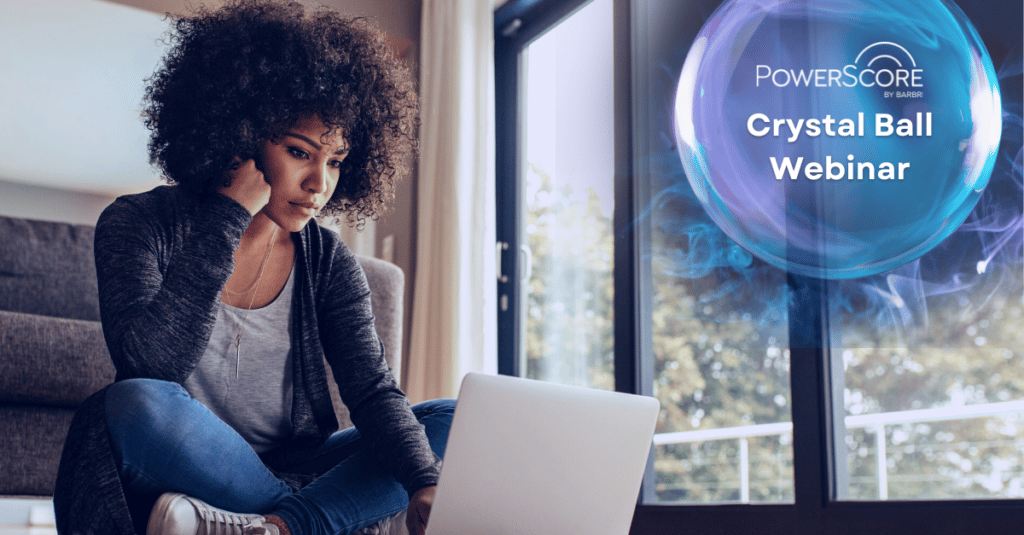 One of the most common questions we receive is about whether the PowerScore LSAT Crystal Ball is useful and helpful. The good news: it is! But you don't have to take our word for it. Instead, we've compiled some comments from actual students that attended prior sessions:
Finally nailed that 170 thanks to the crystal ball! I'd hit the wall of scoring 163-166 on test day prepping on my own but I bought prep+ a week before the test & was able to focus on your recs. I did the no no of practicing the day before to get thru them all🙊but it paid off!" – @AddyMadison

"I attended the crystal ball discussion Dave and Jon did last month and I'm low-key blown away that they actually predicted today's test exactly! Like the exact test that's apparently being used today was what they said to expect. If you were there for it you'll know what I mean. That's crazy to me that they can anticipate this stuff!! Shout out to those guys for basically being psychics and keeping us informed. Puts me way more at ease for Tuesday!" – u/tj212

"What a fantastic Crystal Ball session from @DaveKilloran and @jonmdenning of @PowerScore last night. I am feeling more confident than ever about September's test. Thank you for the insights and key areas to focus my remaining study time. #lsat #readytogo" – @sebby61

"PowerScore is the best in the business, they have accurately predicted test forms and scales for several years now. Their Bibles are a staple for a lot of people to get a handle on nuance but their classes and courses are truly where they shine and give their students a leg up over others. I say this confidently because they accurately predicted even the LSAT I just took this November." – u/East_Low_6461

"@DaveKilloran @LSATadam @jonmdenning Thanks for all of your hard work tonight and lending us some of your very valuable time! Yet again, the crystal ball was immeasurably helpful, so I really appreciate the effort that goes into presenting to such an anxious and demanding crowd." – @LucasClemmings

"I think the powerscore dudes are doing the lsat community a huge service by analyzing the test, making suggestions/predictions, etc, and making these accessible to motivated students. People are not just going to all find out this info (what sections to study, etc) on their own. I'd tune in if you get a chance." – u/VSirin

"Applying to law school is inherently stressful, partly because of the competitive nature, and partly because there are aspects where certain knowledge seems gate-kept. You guys are like the gate wreckers LOL. I'm so grateful for people like you who truly care about investing in others. You've made law school accessible to so many people. It's extremely admirable. I'm thrilled to hopefully become a part of a community that espouses such fraternity and positivity. We're crushing it. Together. " – u/blivs


Amazingly, the above is just a small fraction of what people have said to us, which is not surprising given how popular these webinars are. They draw LSAT students from around the world:
We've helped thousands of students through these free webinars (Sign up here), and the feedback has been uniformly positive and often glowing!
As a reminder, in the Crystal Ball we cover the following:
The typical frequency of various question types, which helps you prioritize your studies for each section.
The best LSATs to study in advance of each test administration.
The most likely unreleased LSATs to be used for the next test administration (and we've very often been right in what we predict!).
Using those test reuse predictions, we then craft specific problem sets that feature questions we think best prepare you for the upcoming exam. At times, our ability to predict topics and game types has been uncanny–we correctly told recent test takers to study a very specific outlier game that then appeared in synonymous form on their exam.
Best of all, these webinars are always free to the public when we first do them, so come join us for the next one—you don't want to miss out!