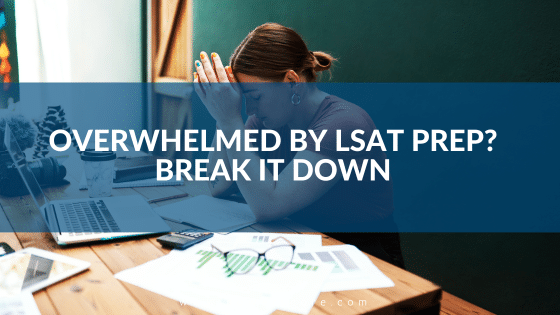 Preparing For The LSAT Can Be Overwhelming

I've worked with LSAT students for many years, and one thing never changes: the process of preparing for this test is long and grueling. It's a challenging exam, and there are so many things to learn and practice that students often become frustrated with the process. Far from being an abnormal feeling, this is par for the course with the LSAT.
What Can You Do About It?
While it might seem you just have to accept the situation and suck it up, how you look at the process can make a huge difference in how you ultimately perform. The frustration comes from looking at all that you have to do—all the reading, all the homework, all the practice tests, all the review, all the time spent—and thinking it's just too steep a hill to climb.
One thing good LSAT students tend to do is break the process into small chunks. Instead of thinking about all the things they need to do to complete the process, they think instead of the first thing they have to complete. And then they go work on that.
How Can You Change Your Perspective?

The situation reminds me of one my favorite sayings, "A journey of a thousand miles begins with a single step." While it's easy to get wrapped up in the totality of the trip and the large task of traveling a thousand miles, the proverb tells you to simply start the process. Take that first step, and that's one less step you have to take to get to the end.
With LSAT prep, you don't have to make a complete plan with every step detailed, you just need a general sense of what to do. The first step could then be to read a chapter in one of the LSAT Bibles, or to take a full, timed LSAT. It doesn't matter what the step is, just that you actively work to complete it.
Is It Really That Simple?

Yes and no. It's relatively easy to break down your prep into small pieces, but there's still a lot of work to be done, and that will always take time and effort. When I work with students who are struggling with the overall workload, I always explain that they are climbing Everest. If you sit at the bottom and look up, it seems impossible. So instead you say, let me get to the next stopping spot. Essentially, you break the big climb down into a series of smaller climbs. Keep doing that over and over and sooner or later you "suddenly" find yourself at the top.
The key takeaway is not to focus on all the things you have to complete to get to the end. Instead, focus on simply starting the process. Take the first step. You'll feel a surge of confidence in that you are moving towards your goal!
Thanks and if you have any questions, please post them below!