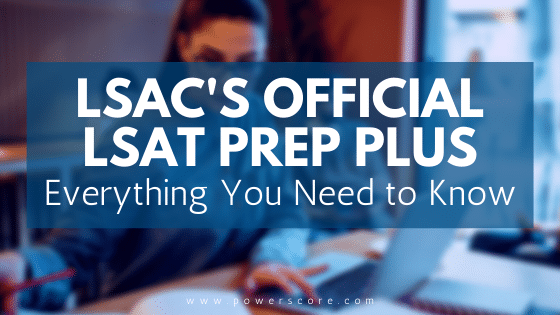 LSAC just announced a new online program that will allow students to take 71 digital practice LSATs for $99. This is a great deal and we wanted to make sure to get the word out about this excellent resource!
Here's what we know so far: Official LSAT Prep Plus is a subscription program you can sign up for to get access to digital tests. It costs $99 and lasts for one (1) year from the date of purchase. In the subscription, you have access to 71 full LSATs in a digital testing format. The tests do not offer analytics or explanations, just the questions and basic test scoring. Below is a list of the LSATs that come with the subscription.
June 2007
SuperPrep II, Test 3 (Form 96)
Prep Tests 19-20
Prep Tests 22-88
Questions You May Have
Q: Why don't we get tests 21 and 89?
A: At this time, they haven't been converted to a digital format. They may be added later, especially PT89, but not at this time.
Q: When a new LSAT releases, will they add it to the subscription?
A: Probably, but most likely not immediately.
Q: Where can you buy the subscription?
A: On LSAC's website.
Q: Are they still going to sell the paper tests and books of 10? Will they stop printing the paper tests/books of 10?
A: They plan to keep them around for a while for international and accommodated test takers. They will likely review the process as times passes but initially they intend to keep paper copies in print.
Q: Is this the only way to get digital tests?
A: No, when you sign up for an LSAC account, you automatically get access to PrepTests 71 and 73. This program is the Official LSAT Prep and it is free.  We will also continue to sell individual tests on our website as well as test collections.
Q: Is the June 2007 still a free LSAT?
A: For now it is free, but they intend to eventually remove it as a free test.
Q: Can I get the subscription program for free?
A:  Some individuals are able to get this program free. If you receive a fee waiver, you will receive a free subscription. Additionally, anyone who was granted a fee waiver over the past two years will get a free subscription.
Q: Will LSAC's platform be accommodations friendly/accessible?
A:  Yes, it uses the basic tools of your phone/tablet/desktop to allow for color changes, text size alterations, etc.
Q: Does this platform give me a score at the end of each test?
A: Yes, it does give you a final score upon completion. It will not provide a breakdown of how you did or question explanations. If you take a test on our platform, we provide in-depth analytics as well as links to explanations for every question. You can also score your test again on our free Self Study Site to get a comprehensive rundown of your performance on a test.