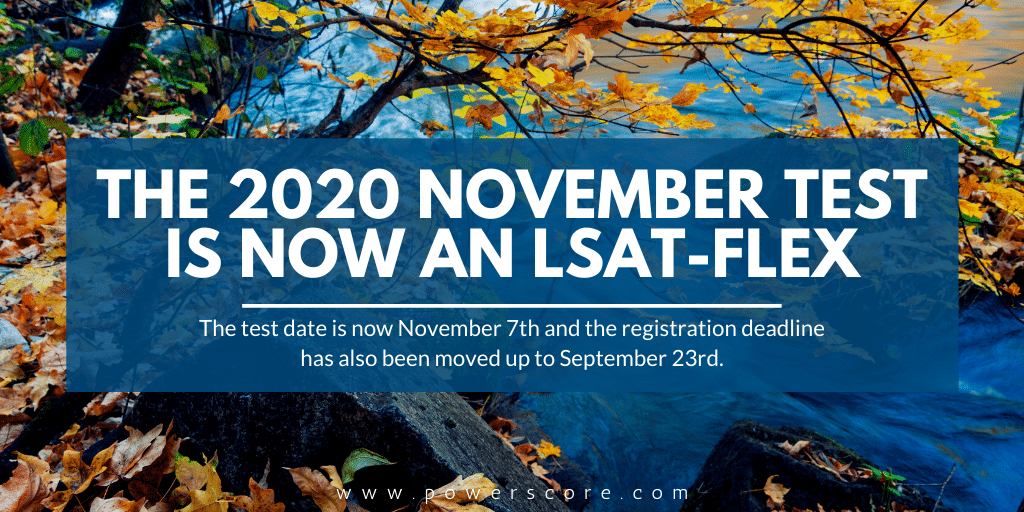 LSAC has just announced that the November 2020 exam will be an LSAT-Flex, confirming our suspicions that the remainder of this year's tests will be taken from home. They have also pushed the date of the first November tests up a week, from November 14th to November 7th.
Along with the earlier start date, the November registration deadline is now a week earlier, as well: you must sign up by September 23rd if you want to test in November. The option to select your test day and time should go live on/around October 24th (two weeks prior to the first day of testing). The planned test days are Saturday, Sunday, Tuesday, and Wednesday for the majority of exams.
November 2020 Test Details
In terms of specifics, the November Flex will closely resemble this October:
Score preview will be available for a fee for first-time test takers
A Writing Sample on record is required for score release (to student and schools)
The test will count towards the annual/lifetime LSAT repeat limit
November will be another nondisclosed exam
Scores are set for release on 11/24 (roughly two weeks from the final testing day)
Finally, credit to LSAC for making the right decision on November, and for announcing it well in advance so there's as little confusion and anxiety as possible. We know not everyone prefers the Flex format, but there's no denying this was the safest possible outcome, and with over two months' notice at least there's plenty of time to get yourself ready. Here's hoping we get an update on January and February months ahead of time, too!
If you want to take practice tests in the LSAT-Flex format, subscribe to our Testing and Analytics Package. It features 31 LSAT-Flex PTs and provides comprehensive feedback on your performance upon completion! Note that this package does require the PrepPlus subscription from LSAC.