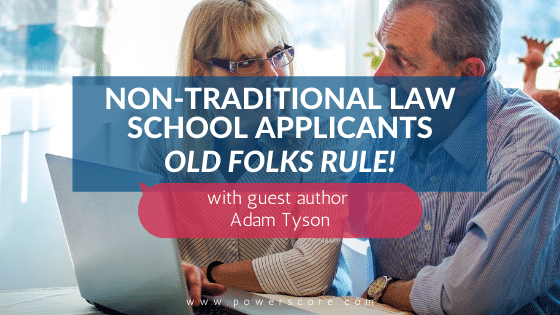 This blog is brought to you by PowerScore Instructor & Tutor, Adam Tyson.
When I took the LSAT for the first time, I was 31 years old, 8 years out of college, married, with a 2-year-old son, working full-time at a large non-profit institution, had a mortgage, and was the primary breadwinner in the household. I was, in other words, a "non-traditional" applicant.
Does This Sound Like You?
I was nervous about the process. Would any law school be interested in an "old guy" like me? Who would I ask for letters of recommendation, when I couldn't expect my old professors to remember me very well? My GPA was…let's say "unimpressive," but by this time I was more mature and ready to put in the effort that had been missing from my undergraduate studies. How could I convey that to an admissions officer? Even if I got in, would I fit in with all those 22-year-olds who had nothing but time on their hands to study? How would I compete with them for jobs when they would be ready, willing, and able to put in 120 hours a week while I needed to get home to my family and be involved in raising my son?
Law Schools Want a Diverse Applicant Pool
Turns out, I needn't have worried. Back then, law schools were actually pretty interested in seeing a diverse applicant pool. They still are now. When I queried admissions personnel from some of the top law schools in the country, I got a wide array of responses. This one from Robin Holman, Assistant Director of Admissions for Operations at Duke University School of Law, sums up what most of them had to say:
"We look at more than just the numbers, and all material submitted will be taken into consideration.  Diversity enriches the educational experience of all our students.  We seek to admit students from different academic, cultural, social, ethnic, and economic backgrounds."
In other words, bring it on! Your age and experience are assets that set you apart. So don't be afraid of them, but embrace and highlight them.
You Aren't Alone
However, don't get too cocky! It can be easy to fall into the trap of believing that you are somehow unique in this regard. There are plenty of non-traditional applicants out there applying to law schools right now. Bekah Saidman-Krauss, Assistant Dean for Admissions & Financial Aid at Penn State Dickinson Law, which accepts a "fair number" of non-traditional applicants, told me:
"Applicants don't know the diversity of the pool, so they shouldn't assume they're just like — or not like — other students applying to the school."
In other words, an applicant who displays an attitude in their personal statement that they are somehow unique and unlike other applicants is a real turn-off. So don't do that!
Enhancing Your Career
Many non-traditional candidates may be thinking of their law degree as a resume-enhancer, or to supplement rather than replace their existing career. I see this a lot with financial planners, real estate professionals, and people involved one way or another with child advocacy. I had a law school classmate who was a surgeon, and who, knowing that he couldn't wield a scalpel forever, was preparing for a second career as an expert witness in medical malpractice litigation! You may be at a disadvantage for those Big Law jobs that the young folks are gunning for. But there are still plenty of opportunities for you in the legal and quasi-legal fields. Here's what Desmond Wu, Assistant Director of Admissions at UCLA School of Law told me on that issue:
"Because prospective students pursue law degrees for varying reasons, students who are interested in practicing law are not necessarily advantaged or disadvantaged when compared to students seeking to enhance a current career.  What is more important is that they are able to tell a compelling story about why they are pursuing a law degree."
Helpful Advice for Non-Traditional Students
As I spoke to these folks and others in their position, I heard a lot of the same helpful information about applications from non-traditional students, like:
Numbers (your LSAT and GPA) matter, but the story doesn't end there, not by a long shot. If your GPA is long ago and, like mine, unimpressive, make up for it with a great LSAT score.
Law schools take a holistic approach to reviewing the application. They are all looking for more than just the numbers.
They are interested in "indicators of success," whether academic, professional, or both.
Strong letters of recommendation are very important — don't just ask for a LOR, ask for a glowing LOR. And talk to the prospective recommender first to be sure you, and they, are confident they can provide that.
Visit the schools that interest you and meet not only with admissions staff but with current students like you. That way you can get a real feel for what it's like from someone who is in your shoes.
Be sure you submit a well-written personal statement! Tell your story. The longer you have been away from school, the more important it will be to focus on what you have done since then.
Final Notes
I'll add to all this what I got from my discussions with all of the admissions folks I spoke with. They are a very friendly and helpful bunch. Remember, they aren't just gatekeepers intent on keeping the wrong folks out (although that is, of course, part of the job). They are recruiters, looking to fill their schools with a group of great and diverse people like you who will enhance each others' experience and enrich the school. Call them! Ask questions, like I did, without fear or doubt. Talk to them like the professionals you and they are.