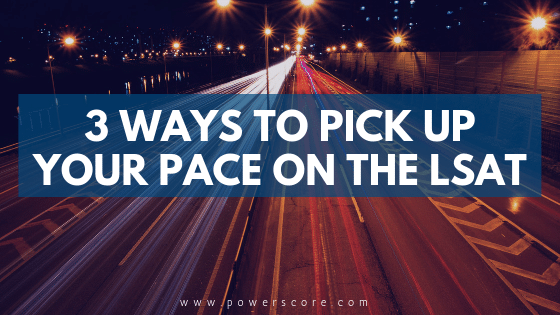 When preparing for the LSAT, a very common question you might ask yourself is "How do I increase my speed?" Test takers often note that if time was not a factor, they could do better on the test. But of course, that is deliberate. The makers of the LSAT design the test to be both difficult and time-consuming. For most students, speed is a major concern. Here are some tips to help you pick up the pace by taking control of the LSAT.
Prioritize the Questions You Attack First
Each section has a barrage of questions that you're expected to answer in a short amount of time. Don't get bogged down by the difficult ones! Instead, prioritize. The toughest questions are scattered throughout each section. Attack your favorites first and save the ones that might hold you up for last. This helps ensure time isn't lost while "spinning your wheels" with the hardest questions in the section. If there are easier questions available to answer, start with those!
Don't Let Answers Slow You Down, Either
As much as a difficult question can catch you off guard, incorrect answer choices can do the same. They are cleverly designed to stall your progress. You've probably noticed that test makers are skilled at obscuring the right answer choice and making incorrect answer choices seem plausible. If an answer choice is confusing, requires analysis, or is longer than the others, skip it for now! Consider the other options first and then return to those you're unsure of.
Practice!
We saved this for last because, for some students, this is the least welcome bit of advice. First you get good, then you get fast. The LSAT is not an easy test and pace development is a great reason to practice. With each practice test, you increase your familiarity with it. By becoming familiar with every curve the LSAT throws your way, you increase your focus and endurance. The more practice you get, the faster you will be.
Think you could use some additional help with timing and the LSAT? Maybe one of our tutors can help with that!