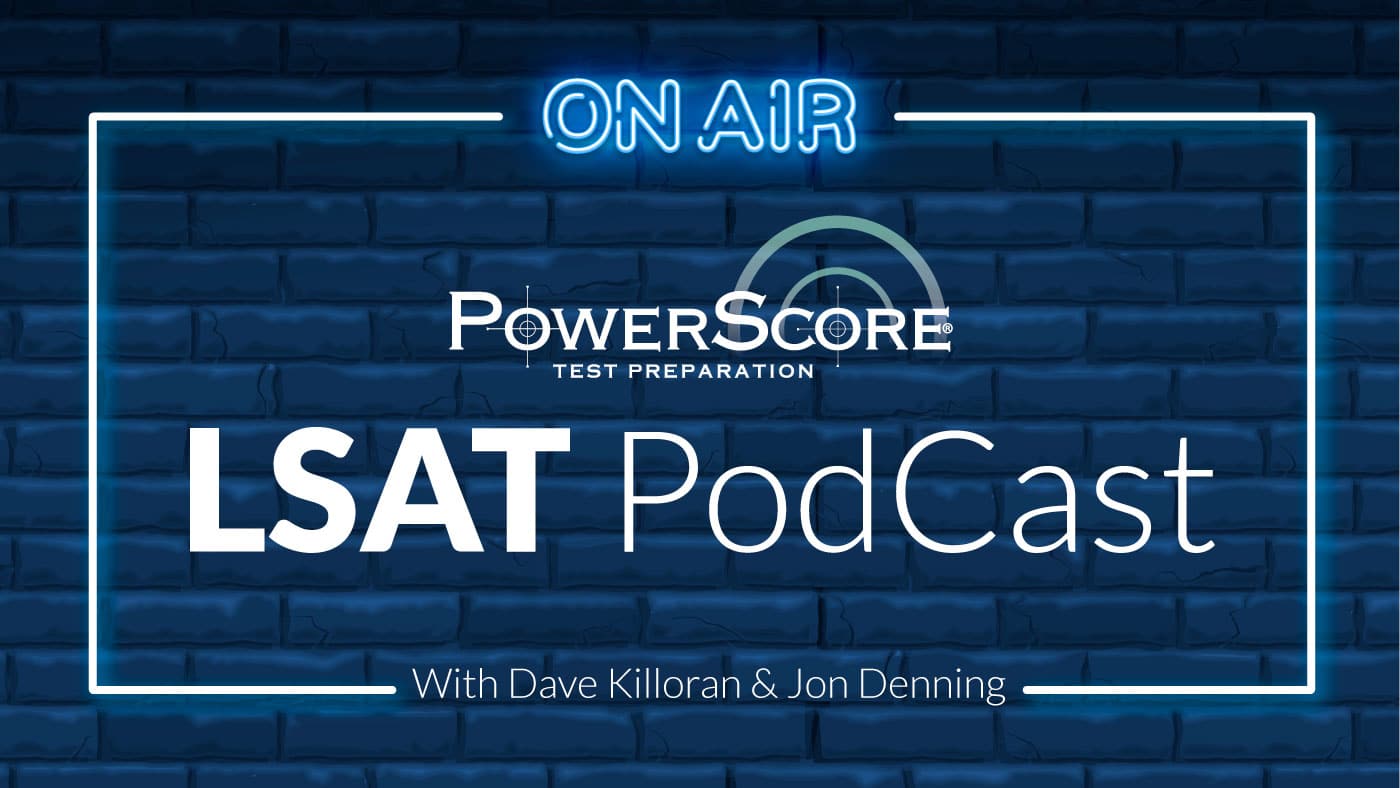 The PodCast's 20th episode is dedicated to the July 2019 LSAT, from its shaky rollout to its section-by-section content to its unique experimental section treatment. Jon and Dave run through a host of stories from the first-ever digital administration—some good, most shockingly bad—then turn their attention to the test itself and offer their take on what it contained and the scale it will likely produce, as well as what they suspect happened with the LR experimentals.
You can find the episode below, but make sure to subscribe/follow and rate/review on Apple Podcasts, Spotify, YouTube, or Stitcher!
Timestamps
0:00 – Intro. What Dave and Jon are drinking and listening to in order to fall in line with this episode's themes (*hint: "It's a disaster").
5:28 – The transitional Digital LSAT rollout. How many digital tests were actually administered? Was it a 50/50 even split?
Problems with the Test Administration
7:22 – Problems: Check-in issues. In some instances students had to wait up to 3 hours before the check-in process was complete.
10:18 – Problems: Missing styluses at multiple test centers for the digital test, so students were forced to use their fingers on the screen.
14:16 – Problems: Multiple issues with the tablets themselves including syncing issues, lack of charge, lack of backups, screens freezing, and functionality clunkiness with the touch screens.
28:59 – Problems: Proctoring issues. Some proctors were not aware of the allowance of pencils, didn't know about the score preview/cancellation opportunity with the July test, and started digital sections too early/forgot to pause when they were supposed to.
38:09 – Problems: External issues. Various issues reported at specific test centers such as fire alarms in Calgary, loud construction at University of Windsor, and more.
Addressing Questions
41:04 – What do you do if you had a problem at your test center? Where do you report it?
44:21 – What happens for people who couldn't complete the test and need a makeup? Ex: Calgary, Lakeland, Tampa, etc.
50:11 – Positive feedback about the digital/tablet test taking experience
58:06 – Level of difficulty. A fairly straightforward test without anything abnormal introduced.
1:00:10 – Copyright oversight. A 2016 copyright was found on the July 2019 test, giving away the fact that this specific test was written 3 years ago.
Test Overview
1:02:58 – Dave and Jon discuss the scale and predict a -12 = 170 on this specific test.
1:10:06 – Logic Games section overview.
1:13:38 – Reading Comprehension section overview.
1:18:32 – A very brief mention of the test's predictable Logical Reasoning content (before we explore what made this LR historically unique).
1:18:52 – What we know about the Experimental section on the July LSAT and what was different this time around.
1:35:06 – July 2019 Experimental section theory #1: Multiple tests administered.
1:38:47 – July 2019 Experimental section theory #2: Collective Fever Dream. Difficult to remember with complete clarity.
1:44:00 – July 2019 Experimental section theory #3: LSAC interspersed real questions with Experimental questions for all three sections rather than one Experimental-only section.
2:02:27 – July 2019 Experimental section theory #4: Both Logical Reasoning sections were set and the Experimental section used hundreds of questions that rotated between tests.
2:08:30 – Most uncertainty ever following an LSAT.
2:10:28 – Outro.