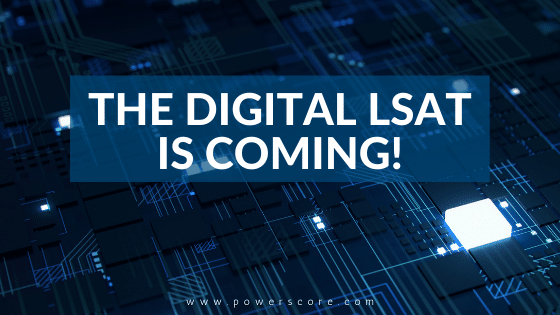 Back in May 2017, LSAC began testing a digital version of the LSAT in select cities for limited applicants. Students were able to take a free-of-charge, tablet-based LSAT in what LSAC labeled a "Digital Pilot Test," where the test makers could gather data and collect feedback in the final stages of  their transition from a paper to a tablet format. The question on everyone's mind ever since has naturally been, "So when will a Digital LSAT become reality?," and up until today no one had a clear answer.
Now we do.
LSAC's Announcement
LSAC announced this morning that they will begin transitioning to a digital version of the LSAT starting in July 2019, with a full switch to digital in September 2019. To best understand this news, let's take a look at the message LSAC sent and examine its key points in more detail!
"The LSAT will be fully digital in North America starting in September 2019. We've planned this transition carefully to ensure candidates have all the information they need to decide their preferred testing schedule," said Kellye Testy, President and CEO of LSAC.
After two rounds of digital pilot testing, LSAC will finally do away with the decades-old paper LSAT beginning next September.  At which point all remaining 2019 LSATs—both October (also newly-added with this announcement) and November—as well as all 10 LSATs in 2020 will be given on a tablet, with no paper option available. Note that this only applies to North American tests; international test takers will presumably have the familiar, paper-based exam available for a while longer.
Surprising News
Because law school candidates in the current testing year will have anticipated the current paper-and-pencil test format, LSAC has scheduled the transition to begin with the July 15, 2019 test, after this year's law school admission cycle is largely completed. At the July 2019 test, some test takers will be assigned pencil-and-paper tests, and some will be assigned digital tests, which is a best practice under educational testing standards for moving to a new testing method.
Here's the first real surprise in the announcement (beyond the full-scale September kick off itself): those testing in July of next year won't be able to choose paper or tablet, but will instead be randomly given one or the other, apparently without warning before the test as to which they'll receive! LSAC describes this as "a best practice" for moving to a new format…but I'm inclined to label it unfair. Or at least needlessly secretive. Imagine preparing for a paper test, walking in to take it, and being told you won't need that number 2 pencil because it's tablet time. So here's hoping they give some sort of advanced warning as to the type you'll take, and also offer plenty of digital prep materials early next year so that students can be ready for either option.
Paper to Digital Transition
To ease the transition, LSAC is also offering July test takers a special option: regardless of format, July test takers will have the opportunity to see their score before they decide whether they wish to cancel it. Those who decide to cancel can choose to retake the test again through April 2020 free of charge.
And now some truly interesting news: anyone who tests next July, regardless of paper or tablet, will have the option of cancelling their score after seeing it upon score release! We've confirmed that this will only be for July 2019 test takers, but it's a rare opportunity to cancel only when you know with certainty that you didn't hit your target. So despite the seemingly arbitrary and mysterious nature of how the July test will be offered, it's something of a no-brainer to take it: either you get the traditional paper test and have a perfectly transparent cancellation process available, or you get a digital test (which you'll have prepared for anyway) and get both great experience in the event of a retake as well as a chance to cancel after knowing your results. The cancellation will be on your official record, the same as any cancelled test is currently, but as we've discussed many times previously schools don't care about one or two cancellations when evaluating applications.
All students who cancel also get a free repeat offer that's good through the following April (seven subsequent test dates), so again with these considerations in play July may be the most attractive test of 2019!
Digital Test Structure
"The structure of the test sections and test questions will not be any different than the paper-and-pencil LSAT, and we'll be providing free online tutorials, so we don't think test takers will have any problems moving to the digital version," Testy said. "In our field tests, candidates found the Digital LSAT easy to use. That said, we wanted to provide additional options for those who register for our July transitional test."
We've talked at length about the format of the digital LSAT, so this is mostly old news. Note that free online tutorials will also be provided before the roll out begins in July, so anyone looking to test at that point or beyond would be well-served to spend some serious time getting comfortable with the new platform and learning how to best approach it.
PowerScore & The Digital LSAT
The launch of the Digital LSAT represents the culmination of several years of work. "We were not satisfied with the current electronic testing formats available," said Testy. "We wanted higher security and a better user experience."
The new Digital LSAT will be delivered on a tablet device loaded with patented software developed by LSAC and includes numerous features that will benefit test takers and schools, including faster reporting of scores. Current LSAT preparation materials can be used to practice effectively, including the free test preparation LSAC offers in collaboration with Khan Academy. Additional practice materials for use specifically on tablets are also forthcoming.
We'll be developing our own digital practice content—reshaping all of our current books and courses to match the new interface—so students will have ample opportunity to receive excellent prep perfectly suited to the tablet-based LSAT! Look for that content to be available starting next spring!
Last Words from LSAC
"The LSAT is widely acknowledged as the best tool for assessing the potential for candidates to succeed in law school and pass the bar examination," said Testy. "The Digital LSAT will maintain the quality and predictive value that the LSAT is known for, while providing a modern delivery system that enhances security, access, and ease of use."
Following the July 2019 transition test, the LSAT will be administered digitally going forward. LSAC is committed to accessibility for test takers with disabilities, and the tablet delivery system offers flexible type sizes, built-in screen reader, and other enhancements that will deliver an optimal testing experience for test takers needing such accommodations.
At the same time LSAC is moving to its new test-delivery system, the organization has increased the number of administrations in its testing calendar. There will be nine LSAT administrations in the 2019–2020 testing year (PDF)—up from six in the current testing year.
"For 99% of law school candidates, their enrollment journey begins with the LSAT" said Testy. "Our goal is to make it easy and convenient for candidates to pursue their passion for law and justice."
 The rest of this is standard, party-line talking points from LSAC, meaning nothing noteworthy beyond the updated test date schedule (in the pdf linked above).
Final Thoughts
So some big news out of Newtown this week! If you're reading this at the time of writing it may well be the case that the approaching digital makeover has no impact—most people in October 2018 will have the test behind them by mid-summer 2019—but if you do find yourself eyeing a test date in late 2019 or beyond it's absolutely critical that you are not only aware of these changes, but also intimately familiar with the new test format and the strategies most effective for success within it.
Thoughts on the LSAT going digital? Let us know below, or get in touch at lsat@powerscore.com!