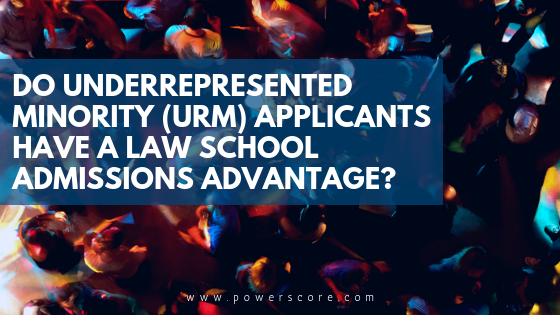 Law school admissions decisions are often thought to be formulaic and assume LSAT and GPA are the only important elements. We cannot deny that those numbers play a huge (and important) part in most admissions decisions. But, they aren't the only factors that matter. We've previously discussed other key ingredients in the admissions decision factors, such as timing and applying through early decision (ED). There are other factors that make a difference, and some of them are quantifiable factors with user-reported data. These include an applicant's gender, traditional or non-traditional status, and URM. In law school lingo, URM stands for an underrepresented minority. This post will focus on statistics relating to how URM status may affect law school application outcomes.
How Big of a Role Does Minority Status Play?
Theoretically, URM applicants may get a "boost," or increase chance of admission, due to their status as an underrepresented minority. There are a number of reasons and explanations for this, which go far beyond our purposes here. But, in general, law schools believe that creating a diverse environment means creating a rich environment. There is also evidence that the LSAT, while it generally creates a level playing field, may somewhat disadvantage certain racial and ethnic minorities. In addition, there are questions regarding structural problems with our public education system that might disadvantage certain groups. Regardless of the reasoning for an URM boost, however, there is plenty of anecdotal evidence to suggest that it exists. The purpose of our analysis here is to provide some numerical statistics to support that anecdotal evidence.
To address questions regarding any advantage URM candidates might have in law school admissions, here's what we need to do:
Quantify what we've termed the "URM Boost" by measuring the effects of URM status on admissions outcomes. We will also be controlling a variety of other quantifiable factors.
Present the average LSAT and GPA figures for both URM and non-URM admits to schools in the USNWR Top 100. These schools have sufficient user-reported data available and thus make this equation more consistent.
This analysis makes use of data reported by law school applicants and spans the 2009/2010 through 2015/2016 application cycles. The URM status for individual applicants was self-reported.
Does the URM boost exist?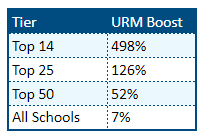 Short answer: yes! Almost every school we cover shows an increased chance of admission to URM applicants, with higher boosts for higher-tiered schools. Let's review by tier. The number given in the table is the % increase in chances for admission for URM vs. non-URM candidates. We controlled for LSAT, GPA, applicant gender, ED application, non-traditional status, and the month an application was sent.
As you can see in Table 1a, law schools typically give a 7% boost to URM applicants. In other words, a URM applicant who is exactly equal to a non-URM candidate, including all other factors we control for, is 7% more likely to be admitted to any law school than a non-URM equivalent. This number is a whopping 498% in the Top 14, 126% in the Top 25, and 52% in the Top 50 law schools.
From this data, we can conclude that URM applicants have a major advantage during admissions decisions. That advantage is even higher in top-tier schools.
The Top 100 and the URM Boost
Table 1b below lists the 74 schools in the Top 100 for which we have enough data to draw conclusions. It is ranked in order of the URM boost percentage. Schools shaded in yellow demonstrated no statistically significant (NSS) discernible boost for URM applicants.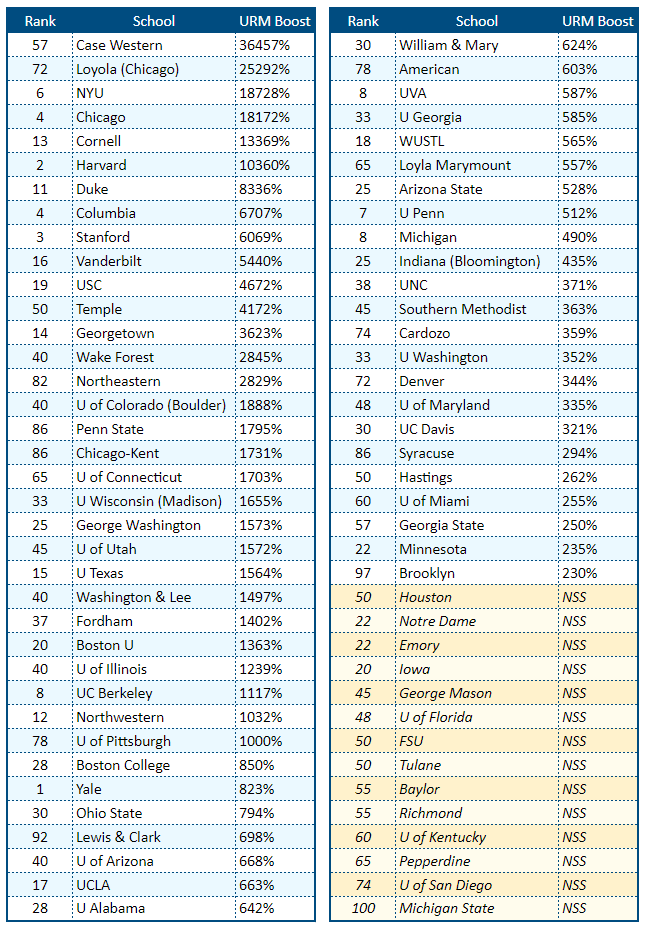 Some of you might be asking "Table 1a shows that for Top 50 schools as a whole, there is a 52% URM boost, but Table 1b makes it look like that should be much larger!" It's a good question but that disparity is explained by the fact that some schools have no URM boost at all and the data is being sliced differently in each table.
In Table 1b, each school analyzes its applicants in a vacuum, without regard to other schools. In Table 1a, those applicants are grouped together within a tier. To put it differently, for the Top 14, Yale, Harvard, and Cornell students are all lumped together.
You have probably also noticed that many of the numbers in Table 1b are astronomical. Case Western gives URM applicants a 365-times better shot at admission? The takeaway here is that there are some URM admits whose numerical profiles (along with other quantifiable admissions factors) simply would not have a shot if not for their URM status and other unmeasurable factors like their personal statement, recommendations, resume, etc.
Don't read too much into any individual numbers in Table 1b. Instead, think of it as a guideline that shows which schools give relatively larger/smaller URM boosts.
LSAT Differentials
To make things easier to digest, below are tables that show average LSAT and GPA scores for admitted URM students vs. non-URM students at the Top 100 schools. First up, in Table 2a, we are focusing on LSAT scores. The schools are listed by the difference between an average non-URM admit's LSAT vs. the average URM admit's LSAT. Please note that nothing else is controlled for here, and these are just the raw numbers.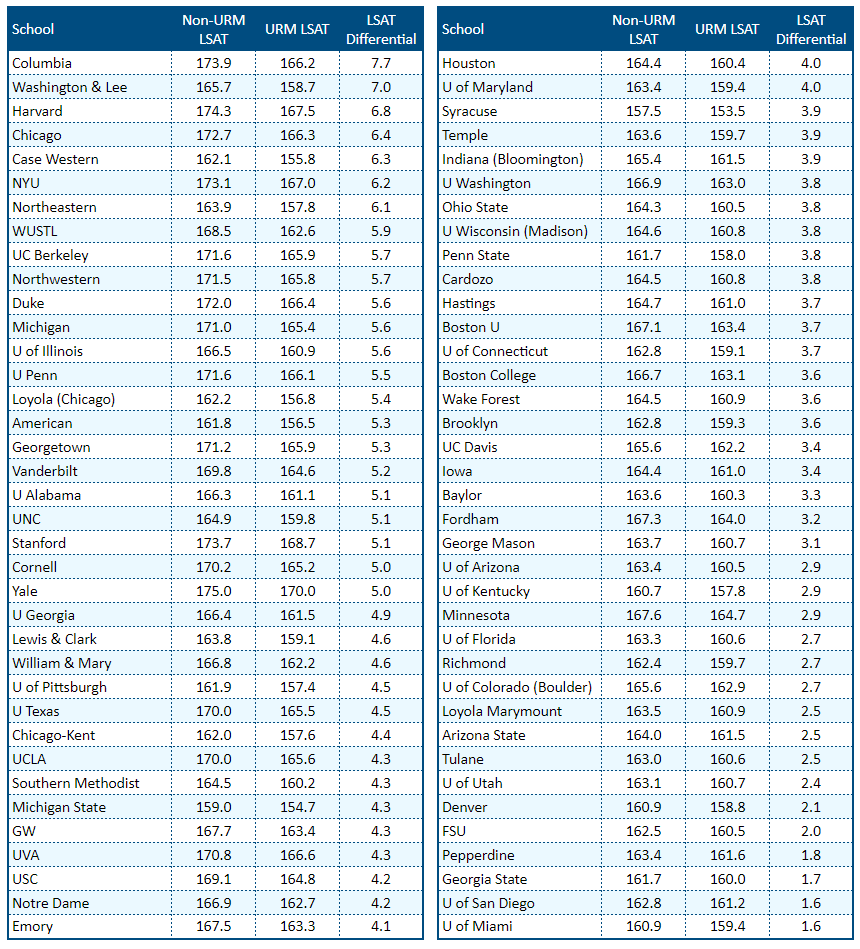 As you can see, Columbia has the highest LSAT differential (by quite a bit, actually), with Columbia's differential being nearly 5 times higher than the University of Miami's, which is bringing up the rear. And, of course, there is a wide range in between.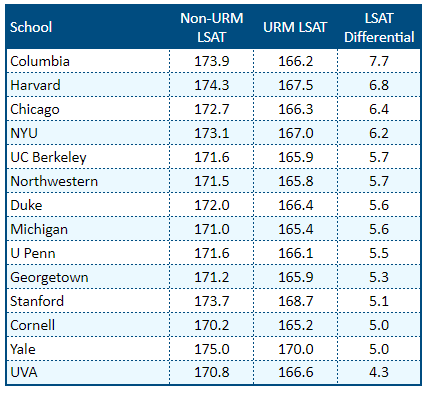 When comparing the Top 14 schools in Table 2b, the range is much smaller, but still considerable. Note that UVA's differential, despite being the lowest in Table 2b, is still well within the top half for the 74 schools. This further underscores the idea that the URM boost is worth more at top schools.
GPA Differentials
In the following tables, we repeat the same exercise for GPA: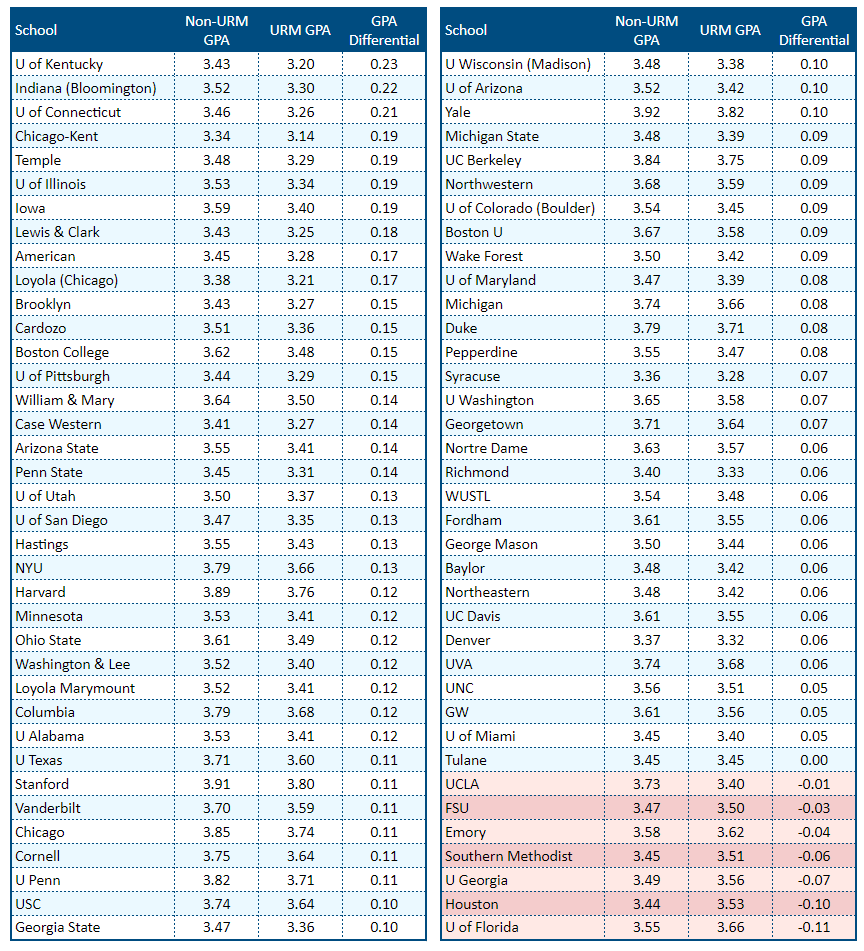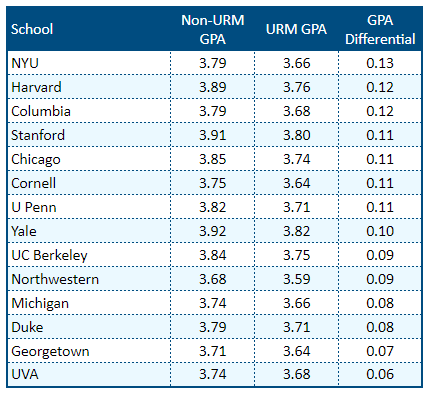 Here, we see a range of differentials, this time for the GPA. You can see that for 7 schools, admitted URMs had a higher average GPA than admitted non-URM applicants. Admittedly, some of that may have to do with smaller sample sizes for URM applicants that may not be entirely representative. Regardless, this gives you a general idea of where the schools stand in terms of the difference in the GPAs of URM and non-URM admitted students.
While a lot can be said or debated about these numbers, one thing for sure is that when it comes time for law school applications. Students who can apply as underrepresented minorities do seem to have an advantage. For those students, each additional LSAT point (or tenth of a point of GPA) can be that extra edge needed to get into a school.
Final note: Some of the data used here comes from public, self-reported sources. Thus it can be subject to some variation and uncertainty. Please keep this in mind when reviewing specific outcomes, and remember that each year the numbers can and do change.