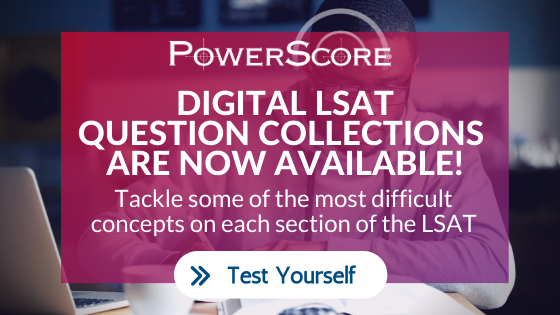 When the digital format of the LSAT was introduced in July, we knew that students would need new preparation tools for this massive change. So, in June we introduced our Digital Platform. This allowed our students to study with the same tools and interface the actual test uses. Earlier this fall we opened up that interface to all students and gave them the opportunity to work with the interface by buying full tests or individual sections. Now, in response to students who want to do question type specific studying, we are adding the full contents of our well-known LSAT Type Training books. While we are still in the process of adding everything, so far we've added a bunch of useful question collections, including:
More to Come!
We are currently adding more collections! Soon you will have access to Logical Reasoning specialties. These will include Assumption questions, Flaw in the Reasoning questions, Parallel questions and so on. Be on the lookout for additional LG and RC collections from different tests as well. These question collections provide a great way to practice with specific types of questions. You can focus on the types you find most challenging. And, by examining questions with certain basic similarities, you can analyze the features in order to better understand how they are constructed, how they can be most easily recognized, and how they can best be solved.
Plus, explanations are available on our LSAT Discussion Forum. We answer questions there daily if something doesn't make sense! If you have time to study over the holidays, now is the time to visit our digital LSAT site and get started with the new interface. You'll be glad on test day that you did!
Want to review your results and fine-tune your skills with an expert? Hire a private tutor!