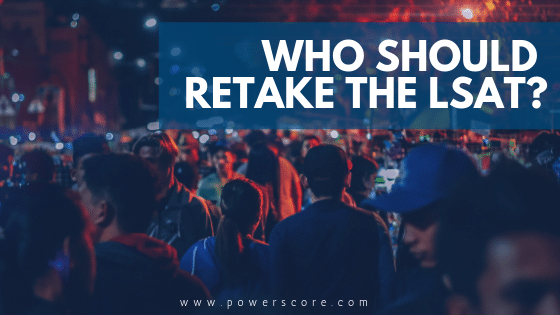 Whether or not you should retake the LSAT is one of the most common questions we receive. Students want to know if they should and how they should approach it differently for the retake. In this post, we will cover who should retake the LSAT and why. Already know you're going for a retake? Check out this post on how to properly prepare for a retake.
So… Who Should Retake the LSAT?
There are several different scenarios that should almost automatically trigger a retake.
You did worse than you had been practicing on the LSAT.
Next time around you know you can prepare harder or better for the next exam.
Your score isn't high enough for your target schools.
A good score is already in your cards, but a higher score increases your admissions chances at top schools or to increase your financial aid offers.
Let's look at each situation in more detail.
You Did Worse Than You've Been Practicing 
This one is a no-brainer! If you've been practicing and receiving higher scores and then don't do as well on the real thing, definitely retake the LSAT. The LSAT is the single most important factor in your application, law schools only care about the highest score. Make sure you're smart about it, though. With the current retake limitations, you can't afford to waste opportunities to improve your score.
You Can Prepare Harder/Better 
Even if you did fairly well on the test, if you are certain you can do better, or if you know you could've prepared in a better or more comprehensive fashion, then retake the test. As mentioned above, the LSAT is the biggest single piece in your application. If there's a chance you can increase your score with a little more effort, it's worth it. Again, be mindful of the retake limitations and really take it seriously this time!
You Need a Higher Score for Target Schools 
This one is also easy. If you have your heart set on a certain school or group of schools, and you see your LSAT score is below the median at those schools, you have very little choice but to seriously consider a retake. Yes, you might be a reverse splitter, and some schools are more friendly to reverse splitters than not, but why put yourself automatically into a high-risk category?
You Want to Increase Admissions Chances or Financial Offers 
Most people know how a higher LSAT score increases your chances of admission, but not as many realize that a higher LSAT score can help obtain an even better financial aid offer. So, even if you've got a score that you think will get you in to a school, a higher score can help entice that school into giving you more money, which lowers your debt upon graduation. Unless you know you scores at your maximum, this factor alone makes it worth considering a retake.