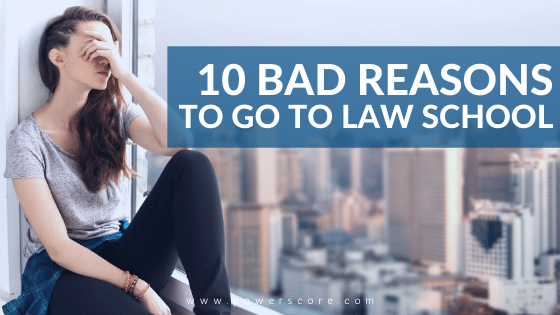 There are a lot of great reasons to go to law school, but there are just as many bad ones. Below we list some of the top ten bad reasons for going to law school. If you find yourself saying, "But that's my reason!" you may need to take time to re-evaluate if law school is the best path for you.
Parental Influence
Although having the support of your family is certainly important, following a parental wish in this case is misguided. Dealing with something as life-determining, costly and as involved as attending law school is certainly an undertaking, and having your family backing you is not something to discredit. However, you must realize that it is not your parents that will have to shoulder the grueling academic and/or financial burden. Nor will they be the ones to hit the pavement to find a job and potentially pay back the loans that will put you through law school. When it comes to choosing to go to law school, it is a personal decision. It's based on your personal career and life goals, not someone else's.
You Like to Argue
The desire to "argue" is a poor reason, at best, to go to law school. There are many more aspects of going to law school and being an attorney than arguing. In fact, many times arguing a case is one of the things lawyers do the least. Analyzing, reading, writing, and hours spent discovering minutia are much more what being an attorney is all about.
Indecision
Let's go over some examples of indecision being your primary incentive for going to law school.
You're not ready to enter the work force and want to postpone it for a few years.
You're not sure what you want to do as a career and figure having a law degree is a good back up.
You simply don't know what else to do.
Unless you plan to enter the workforce as an attorney, going to law school to delay the inevitable "job" can be a detrimental decision. Not only will you spend three years studying something that you may potentially never use, you'll also emerge from it with thousands upon thousands of dollars in debt. In the end, you'll still have to find a job, if nothing else than to pay the loans back. Law school is a path to a job, not a deviation from it. If you're unsure of what you want to do for a career, your next stop should be a career counselor! Not a law school. Explore all other available options and don't simply default to law school because it seems like a "good idea."
"Helping People" is Your Goal
This may seem like a really great reason to choose going to law school. And, yes! Lawyers often help people. However, there are many ways of helping people and public service law is only one of them. Have you looked at all of your options? There's a great deal of variety in the public service arena such as Teach for America, AmeriCorps, the Peace Corps, Habitat for Humanity, and many other non-profits. Not all of these require a law degree in order to help. Unless you have fully thought out the reasons and ramifications for specifically going into public service law, including the drawbacks of attending law school, then perhaps a good, long talk with a career advisor is in order prior to applying.
Increased Career Options
Law school is expensive. The sheer financial burden of obtaining a law degree is enough to severely limit the number and types of jobs you can have once you graduate. You need to make sure that law is even a career option you would consider and not simply pursue it to "have the option" later. In short, law school is meant to prepare you to practice law. It's not meant to prepare you for anything else! If you want to do something other than practicing law, reconsider your options.
Glamorous, Fast-Paced Career
Hollywood has done a lot to distort the everyday lives of attorneys. The reality is that lawyers spend most of their time in libraries and their office. Their days are full of doing research, reading and writing extensive briefs, and taking care of billable hours. The high-drama of today's reality TV and hour-long law sitcoms are rarely seen in the real world. It's only very occasionally that a high-stakes case makes its way onto an attorney's desk. It's important that you draw a clear and distinct line between actual reality, TV "reality," and sitcom entertainment.
Non-Traditional Work Environment
If you don't want to work for a business or have a 9-5 job, you're in for a reality check if you think being a lawyer means neither of those. Although they don't deal in a tangible product, the fact remains that law firms are very much a business. Many of which have the same characteristics a business has. In addition, attorneys work much more than the 8-hour day a 9-5 job presents; many associates (and partners) will work 11-, 12-, or 13-hour days, if not more!
You Want to Make a Lot of Money
According to this article from U.S. News, over 60% of students make under $84,999 in the private sector and over 65% make under $60,000.00 in the public sector. For an example, let's say you land a job making $60,000 a year. While that's a good sum of money, by the time all the different withholdings have been effectuated, your salary will be closer to just over $40,000.00. Close to $15,000.00 could likely go towards paying off you student loan debt. That leaves $25,000.00 a year to live on, which doesn't go far even in the states with the lowest cost of living. Attorneys can certainly make a lot of money (and many of them do), but it can take a decade or more to get there with many lean years in between.
Academic Pedigree
If you're applying to law school to add another degree to your academic pedigree, there's cause for you to pause and think first. There are many other types of degrees besides a J.D., have you considered them all? Many times, you can achieve the same beneficial effect with an MBA, Masters, or even a Ph.D.
Business-Minded
So, you want to go into business? An MBA or business-related Masters degree can sever just as well, if not better than a J.D. Consider all your options before making this your sole reason.
What's Your Reason?
Did your idea make it on this list? Going to law school isn't a bad idea in and of itself but it can be a bad idea for you if you haven't thought it through. Are your reasons sound? Or multifaceted? Take some time to figure out why you want to go to law school before spending all that time and money applying. We promise, you'll be better off later for it!