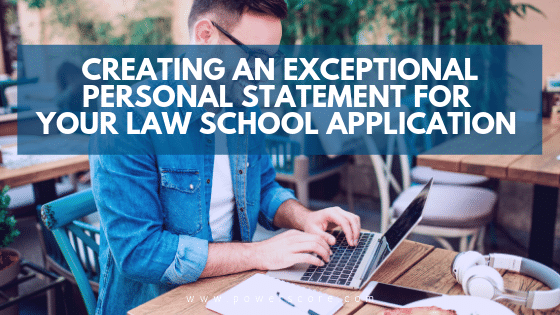 Apart from your LSAT and undergraduate GPA, the most important aspect of your law school application is the personal statement. It is the one part of your file that is solely you. In your own words, you express your voice, experiences, and story. Every day we help students put together exceptional applications with our law school admissions consulting packages. We dispense tidbits of wisdom that help students craft a top-notch and unforgettable essay. Stick around for a preview of some of the advice we give to our students.
The Goal of Your Personal Statement
In a space as short as a law school admissions essay, your goal is to do three major things.
Provide a compelling hook that lets the reader know that something interesting is coming.
Guide them through a narrative that gives intriguing and personal reasons for your decision to come to law school.
Leave them with the unmistakable impression that this story provides a strong basis for you to not only become a law student but to become an excellent one.
Structure & Revisions
Applicants in the "mushy middle" (those whose numbers fall between the 25th and 75th percentiles for a school) can basically write their way into law school… or out of it. Take the time to brainstorm, think, and polish your essay. If you don't, the only thing you'll be writing is your own rejection letter.
Length does not necessarily equal quality. Don't use 1,500 words where 800 would do.
There is no good writing; there is only good rewriting. Re-reading and editing what you've written are the most important parts of the personal statement.
Don't write your essay in a vacuum! After you're done, give it to someone else to critique. Ask them to describe the person the essay talks about back to you. You'll be amazed at what your essay may convey about you.
For overly long essays, it's helpful to make a brief list of the characteristics you want your reader to remember about you thirty minutes after reading your essay. Go through each sentence of the essay and remove it unless it connects to at least one item from your list.
Content is Key
The purpose of the personal statement isn't to show the admissions committee that you have the skills necessary to be a great lawyer. Teaching you those skills is the law school's goal.
It's important to focus your essay on why the committee should want you, rather than why you want to go to law school. That being said, having a good reason to go to law school can make you more desirable to a committee.
Prepare the reader for your epiphanies. Don't let your essay come out of nowhere.
Details make your essay interesting. However, make sure that those details, especially those that are easily verifiable, are 100% correct.
Questions to Ask Yourself While Writing
When you write your personal statement, one of your guiding questions should be, "What do I want the committee to remember about me?"
Each sentence has to tell something about you. Ask yourself, at the end of every paragraph, "What part of myself have I just revealed to my readers?"
Common Mistakes
Don't write about your past experiences with the law, regardless of whether or not those experiences are personally significant. The admissions committee members don't want to learn about the law from your essay; they want to learn about you.
Don't try to make your essay sound like legal writing; instead, keep your language clear and concise.
As a general rule, anything that stops or slows down a reader is a problem. Make sure the narrative is linear, makes sense, and does not leave the reader waiting or asking for an integral piece of information.
Your personal statement says a lot about you, so put the time and effort into making it stellar. If you want help, we're here for you. We have several packages to suit your needs, as well as open-ended consultation hours. Let's get you into the law school of your dreams.